Microsoft teams with Insteon to sell connected-home kits
To date, connected home tech provider Insteon hasn't offered a native Windows 8 app, either on the desktop or on Windows Phone.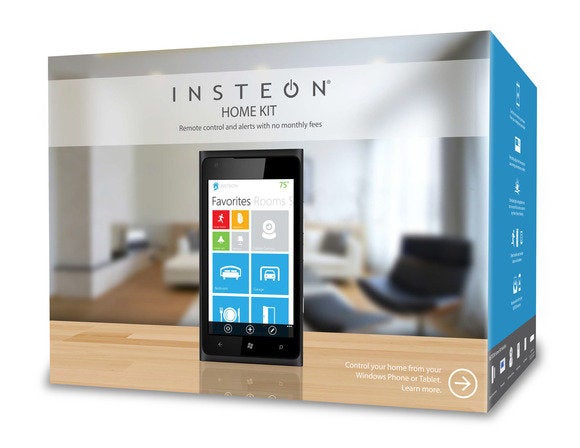 To date, connected home tech provider Insteon hasn't offered a native Windows 8 app, either on the desktop or on Windows Phone. On Thursday, that changed in a big way.
Microsoft and SmartLabs's Insteon division announced a strategic partnership that will place Insteon products in brick-and-mortar Microsoft Stores, complete with a demo area, SmartLabs executives said. In return, Insteon promised Windows and Windows Phone support, complete with features exclusive to both platforms, at least for now.
Beginning in June, Microsoft's online stores will begin selling a "starter," "home," and "business" kit, consisting of the Insteon hub control unit and a number of different, connected sensors. The kits themselves will appear in the physical stores in July, for prices beginning at $199.
The idea, according to Joe Gerber, president and chief operating officer of Smartlabs, was to provide the best experience to customers. With tech providers from Comcast to Google competing with traditional security companies to provide integrated solutions into the home, "it's really fragmented the market," Gerber said.
In general, Microsoft Stores are a mix of computers, peripherals, Xbox console games and accessories, as well as Windows Phones and tablets. To that mix will be added Insteon connected home products, wired up to a Surface tablet and a Windows Phone to demonstrate how they can act in concert, Gerber said.
The showcases and products will appear in the approximately 53 brick-and-mortar Microsoft Stores within the United States, Gerber said, and not at the store-within-a-store boutiques within Best Buy.
According to a company representative, Insteon previously offered a PC-based software called HouseLinc. However, the apps being announced tomorrow are the first Windows Phone mobile apps for Insteon, he said, as well as the first to take advantage of Windows 8.1 features on a mobile device or PC.
Windows getting exclusive "visitor mode"
Specifically, the new Windows apps will have five new exclusive features, according to the company: Live Tile support, which will arrive on Windows Phone later; multi-camera support without the need for an Insteon hub to act as an intermediary; the ability to control multiple homes or business from a single account; a dashboard view, allowing a unified view of a home; and the new visitor mode, which can lock out children or guests from selected doors in the home.
The starter kit will include the hub, an IP camera, and a motion sensor, Gerber said, while the home bundle will add a thermostat and on/off modules. A motion sensor and three leak sensors have been added to create the business kit, he said.
One of the advantages of the Insteon product is its dual-mode technology, which allows lights and other sensors to be controlled either via Wi-Fi or by Powerline technology. Commands propagate through the network via a mesh topology, leaping from one device to the next. In March, SmartLabs announced that the Insteon technology could be used to connect the Nest thermostat, which Google bought for $3.2 billion in January.
Microsoft officials could not be reached for comment. But with the Nest purchase, Microsoft's rivals are already branching out into the connected home. It's hard not to see this Insteon deal in the same light.