Microsoft keeps making this Xbox mistake: Pushing the platform, and not the games
Microsoft could learn a thing or two from Sony's content-heavy E3 presentation.
Today, enthusiasts have added up Sony's PlayStation 4 sales figures and arrived at a total of over 40 million. But Microsoft is reportedly far, far behind, with some estimates putting sales at about 21 million units or so. (Microsoft has not confirmed this.)
Still, compare Microsoft's E3 announcements to the wealth of new, original titles Sony announced: God of War, Horizon Zero Dawn (which seems to improve on Microsoft's own machines-as-beasties title, ReCore), Detroit Become Human, and more. Even the Spider-Man open world game looked fantastic. Titles like Call of Duty: Infinite Warfare, the sort of top-tier shooter that usually helps sell consoles by the millions, paled by comparison. And again, Sony left the games to speak for themselves.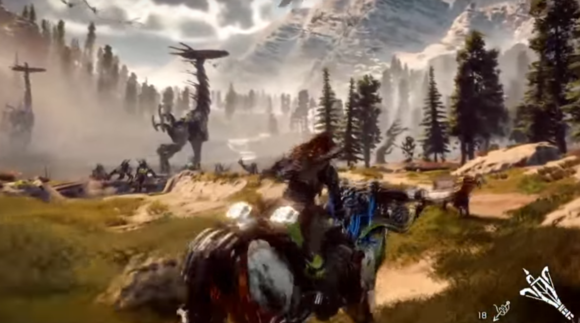 A scene from Sony's Horizon Zero Dawn.
The only exception that Sony made to this strategy was jumping on the virtual reality bandwagon with PlayStation VR, a headset that taps into the power of the existing PS4 to power titles like Batman VR and Star Wars Battlefront: X-Wing VR Mission. If gamers decide that "simulation sickness" is a thing and hold off buying Sony's VR hardware, that whole concept could quickly crash and burn. But Sony's still taking the correct approach: Let the games, rather than the specs, sell the hardware.
Sequels still sell consoles, too
Microsoft hasn't dug itself a hole that it can't escape. Stunning games like The Witcher 3 prove that Microsoft continues to lure top talent to its platform. Microsoft still dominates the racing genre with the Forza series, and Scorpio's horsepower implies that eventually cross-platform games like the Call of Duty series will shine on Microsoft's consoles, not the PS4. Halo remains popular, though the many sequels are starting to look the same.
Maybe it's my proximity to the Microsoft ecosystem, but Microsoft still seems to be prioritizing mechanics over fun. I thought a reader, "Jake," however, said it best:
@pcworld @markhachman you know, Xbox has better hardware, OS, they release more updates. But Playstation exclusives just spits on all that.

— Jake (@Limpusx) June 14, 2016