Microsoft hopes you'll think its 'New Xbox One Experience' is like getting a new console
Game streaming works very well, while backward compatibility could lure users wanting to play older Xbox 360 games.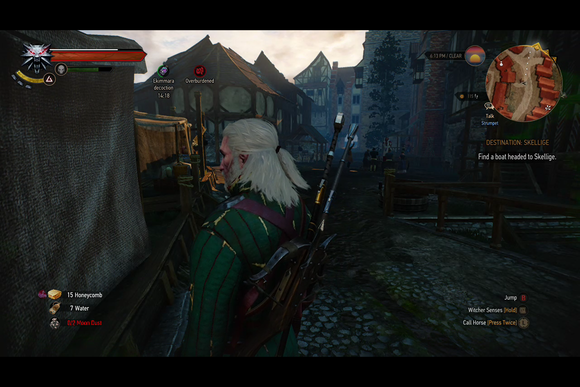 Streaming a scene from the Witcher III through to the Xbox app, about 10 yards away through walls. (Click to enlarge.) Credit: Mark Hachman
The surprising hit came in terms of CPU bandwidth; streaming at high settings chewed through about 50 percent of my CPU on a Core i7-based Surface Book with the discrete graphics base. My "System" memory consumption under the Task Manager also spiked to 1.4GB.
Keep in mind, however, that your streaming performance will be impacted by the available bandwidth, which in turn is governed by interference, network traffic, and other variables. Your mileage will vary.
Besides Cortana, Microsoft hasn't said what's next for the Xbox One; we can certainly expect more Xbox 360 titles to be added, mouse and keyboard support to arrive, and—far in the future—some integration with Hololens, presumably. We can also hope for the personalization options to return.
What is clear, however, is the NXOE's emphasis remains largely on games. Microsoft already has enough hardware whose emphasis is on productivity; at the end of the day, though, everybody just wants to sit on the couch and relax.
Previous Page 1 2 3