Microsoft hopes you'll think its 'New Xbox One Experience' is like getting a new console
Game streaming works very well, while backward compatibility could lure users wanting to play older Xbox 360 games.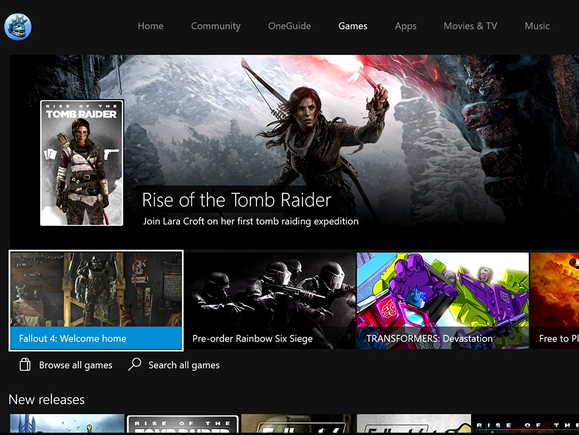 Credit: Mark Hachman
Let's face it: some companies would be tempted to bundle together features like a new user interface, backwards compatibility, and game streaming to other devices, then ship it as a next-generation product. But Microsoft's "New Xbox One Experience"—which includes all of those—isn't even a paid upgrade. It's free.
Microsoft is expected to begin rolling out the NXOE beginning today to Xbox One owners. And while many elements of the Xbox Experience remain the same, there's a fresh new look to it all. But the ability to play older Xbox 360 games, as well as its new game streaming feature, provide the Xbox One an entire new dimension.
Why this matters: And Microsoft needs it. Although Microsoft didn't provide Xbox One sales figures for its most recent quarter, an analysis by Ars Technica pegged the Sony PlayStation 4 at about 4 million units sold during the quarter, versus at most 1.9 million for the Xbox One. At this point, Ars believes, the vast majority of Xbox sales are from the Xbox One. To catch up, Microsoft needs to start throwing some deep passes down the field.
Gamers can argue the reasons for the disparity on any number of fronts: That the PlayStation 4 has better games, more games, or just an emphasis on games that Microsoft passed over with its entertainment-focused Xbox One launch. Whatever the reasons, Microsoft's scrambled to catch up with freebies like Games with Gold and the NXOE, together with what Xbox director of program management Mike Ybarra calls its "best games lineup in its history".
A revamped interface
I'll be honest: I still prefer the look and feel of the old Xbox One interface, if only because I had customized my background with a sweeping vista from Forza Horizon 2. Based on the preview builds I've been testing, the personalization options in the NXOE currently are powerless to set either the background or the color scheme; the NXOE is a very gray world.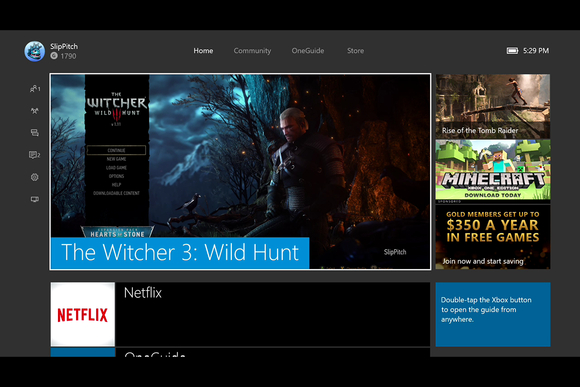 The home screen of the Microsoft NXOE. Credit: Mark Hachman
I'm also disappointed to see Microsoft steal a page from the media that covers them with (*sigh*) ads crowding the right side of the home screen as well as some of the individual Store pages. Games and apps scroll down the screen in a "crawl" of what you played last, with snippets of news from the game hubs Microsoft has built out for many games.
The infoboxes of recently played games stretch to about half the screen, whereas the previous interface used smaller, square tiles. But if you want to try something new, you'll need to scroll all the way down to the bottom to find a link to the "My Stuff" collection of your games and apps, a location that sort of feels like an afterthought. (Squeezing the right trigger will quickly teleport your cursor here, however.)