Microsoft has big plans for its mobile apps: more sharing, more collaboration
Microsoft thinks users will want more powerful, connected apps in the future. Here's how the new generation of Microsoft mobile apps is becoming smarter and more interactive.
Lacking any integrated communication capabilities, however, Delve currently is more a reference tool than anything else. It's unclear whether Delve has a future has a standalone app, or whether it will be sucked into Outlook. (Note that Delve is not currently on Windows Phone, just iOS and Android.) 
One of the limitations of Delve is that it thinks of relevant information in certain predefined categories: documents, primarily, but also coworkers, and apparently calendar dates as well. The problem, of course, is if there's a bit of relevant information that's not in a document—such as an instruction from a coworker that's in the body of an email. Delve will miss it. Over time, though, Delve may get smarter.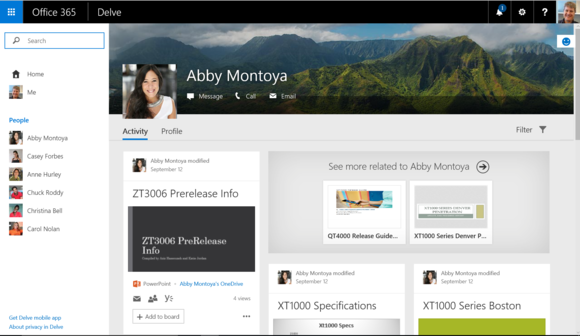 Javier Soltero ran the mobile email company Acompli, before Microsoft bought the company to improve the Outlook apps for Android and iOS. He's now in charge of Outlook as a whole. As such, it's his job to improve the overall intelligence of Outlook, tapping into the Office Graph, the complex web of documents and relationships that Microsoft is building around Office.
Delve is the earliest example of that. "I think for me the interesting part of Delve is not the app you see that shows you all the documents and so forth, it's the Office Graph itself," Soltero said. Office Graph pulls it all together, Soltero explained: "Under the hood, what the graph is bringing up is relevant content of various types, that is a combination of documents, email messages, people, calendar events, et cetera."
It's up to Delve to surface the content, Soltero continued. "The Delve app team is working to bring that to life, and in some sense is validating that is this the right stuff," he said.
We can easily see that happening on a powerful desktop, but bringing that same sort of power to the phone is the next step, Soltero agreed. "That sort of serendipity is the thing that for sure should be baked into an Outlook mobile app."
It's interesting that the two Outlook apps already have a dumbed-down version of Delve inside them: the Files component, which simply lists the attachments you've received in reverse chronological order. But Files doesn't use the Office Graph, and Soltero said in the future that will change. "We're working to make that screen way more relevant," he said of Files.
On mobile, those changes happen more frequently. Microsoft will release updates to the mobile apps weekly, with the desktop app updates rolling out as part of the monthly Office 365 cadence, Soltero said.
Microsoft's apps need to get organized, too