Microsoft asks Trump administration for travel ban exceptions
Pushes back against executive order, wants process to let people with 'pressing needs' come and go for business trips and family emergencies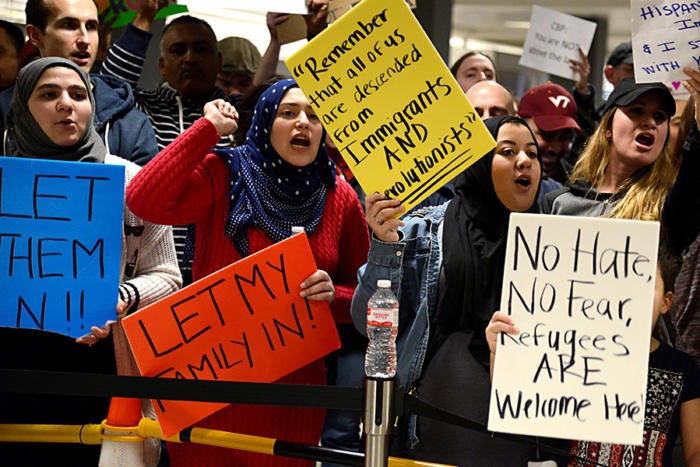 Microsoft today asked the U.S. government to create a mechanism for granting exemptions to last week's executive order on immigration that would meet "the pressing needs of real people," including scores of company employees and their families.
In the letter to the heads of the Department of State and Department of Homeland Security, Brad Smith, Microsoft's chief legal officer, asked for exemptions that would apply to people with non-immigrant work visas, student visas or family members. The exceptions would let them come to and go from the U.S. for business trips and family emergencies, those trips not to exceed two weeks.
The executive order, which was signed Jan. 27 by President Trump -- and that created chaos at airports when some travelers were unexpectedly detained -- included provisions for an exemption process, Smith noted. "We therefore believe that the process we are proposing here is not only consistent with the Executive Order, but was contemplated by it," he wrote in the letter.
In the letter and in a Thursday post to a company blog, Smith described the particulars in Microsoft's instance.
"We have seen these needs first-hand through some of our 76 employees who are impacted by last week's order and, together with their 41 dependents, have nonimmigrant visas to live in the United States," Smith wrote. Some have "pressing needs," asserted Smith, including families with one or more parents stranded outside the borders who "therefore cannot re-enter the country."
In another case, a worker has been unable to leave the U.S. to visit a "critically-ill parent" for fear she or he would not be allowed back in.
Those people, Smith argued, "do not present the types of safety and security risks described by the Executive Order," because they were vetted earlier and the government already has copious data on them. Those for whom exemptions would be given "are not people trying to avoid detection," said Smith. "Rather, these individuals are 'known quantities' in their communities."
Smith said that Microsoft expanded its request to include those with student visas because they "have placed a bet on our country's higher education system" and are "among the promising young minds of the next generation." Microsoft, like other technology companies, relies heavily on recent college graduates to staff its workforce.
The letter and Microsoft's request were separate from other initiatives the company has launched or joined related to Trump's immigration order. "We recognize that this proposal will not and should not end the broader debate and deliberations regarding last week's executive order," Smith said. "Our company is one among many that has expressed its views, and we will continue to participate energetically and constructively in the public discussions that help define our democratic processes."