Meet Opera Neon, Opera's radical vision for the future of web browsers
Don't expect Opera Neon to replace the main Opera browser, though.
Features that you might find in other browsers, though—like previewing the tab by hovering your mouse cursor over it—simply aren't present, making Neon more a celebration of form over function.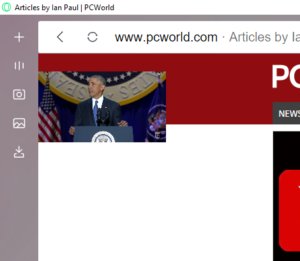 A closer look at Neon's left-hand nav bar and floating video window.
The left-hand nav bar is reserved for five icons: a "+" to add another tab, a series of vertical lines that hide a video player, a "camera" icon to take screenshots with, a "painting" icon that links to a gallery of those snippets, and a download icon at the bottom. Like Opera's mainstream browser, the "video player" can be used to separate a video window from the rest of the tab, allowing you to watch a YouTube video, for example, while you shop online. (If a video is playing, the icon ripples, and the favicon on the source tab changes so that you can track down which tab is playing the video.) The "camera" icon also provides a convenient way to highlight and save all or a portion of the screen.
Otherwise, though, that's about the extent of Neon. Opera's concept doesn't really justify the download, though it's attractive enough. What's more interesting is if Opera eventually uses Neon as its proverbial garage, hacking together new concepts to see what works and what doesn't.