Master Steam: 10 powerful tips and tricks for PC gaming's do-it-all vanguard
Steam can do a whole lot more than let you buy and play games. Buckle up and get ready to dive deep into Steam's hidden features.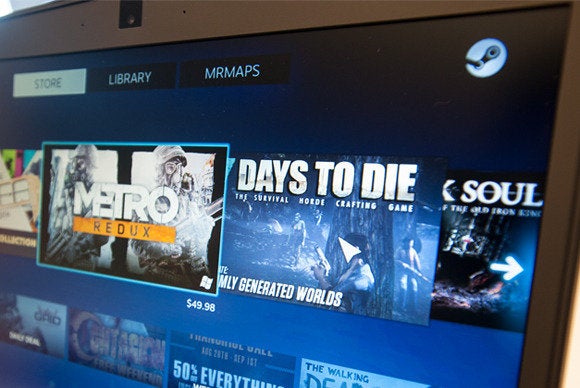 Let's cut to the chase: For many people, PC gaming is synonymous with Steam. Valve's ubiquitous gaming client is both storefront and service, delivering a one-stop shop for buying games, playing and managing those games, and even building out a friends list to chat with while you game.
But that's just the tip of the iceberg. Steam's rife with hidden features that can help you get more out of your PC gaming experience--tricks that few people ever touch. Here are some of the most useful.
Steam in-home streaming
Let's start with a powerful yet quietly advertised feature that has revolutionized the way I play games around the house: Steam in-home streaming.
Steam in-home streaming lets you play even graphically intense games on technologically crappy PCs and Windows tablets. It uses the power of your main gaming rig to actually run games, and then streams the game in Netflix-like fashion to your secondary PC. Think of it as OnLive for your Steam collection, but only on your home network. I use it to play games on my cheap laptop from my couch or bed almost daily, and my colleague Hayden Dingman leveraged the feature's power to play Assassin's Creed IV on an ancient 2006 MacBook.
Activating Steam in-home streaming is easy: Just log on to Steam on your laptop while your gaming PC is connected to the same network and also running Steam. A pop-up notification will let you know the two machines are aware of each other and a new "Stream" option will appear in your library for games installed on your primary PC. There are some caveats and nuances--most involve balancing your network connection and graphics settings--which you can read all about in PCWorld's guide to Steam in-home streaming.
Update your graphics cards drivers
Always run the most current drivers for your graphics card: It's a core law of PC gaming. Nvidia and AMD pump out constant driver updates to support the latest games and optimize older titles, so you're leaving precious graphics performance on the table if you stick to old drivers.
Both companies offer control panels to keep drivers up to date, but if you're not looking to tinker with arcane graphics settings, you can do the same through Steam. Just open the client and head to Steam > Check for Video Driver Updates in the menu bar. If new drivers are available for your card, Steam will let you know and offer to install them right there.
Add non-Steam games to your Steam library
From DRM-free indie titles to EA games sold exclusively through Origin, not every PC game graces Steam's digital shelves--which can be a problem if you game and socialize exclusively through Valve's service. Fortunately, however, Valve lets you add non-Steam games to the Steam client.