Massive China market offers even more upside for Apple
71 percent increase in Q1 revenue relied on iPhone, but the halo effect in the PRC has yet to be fully exploited, say analysts.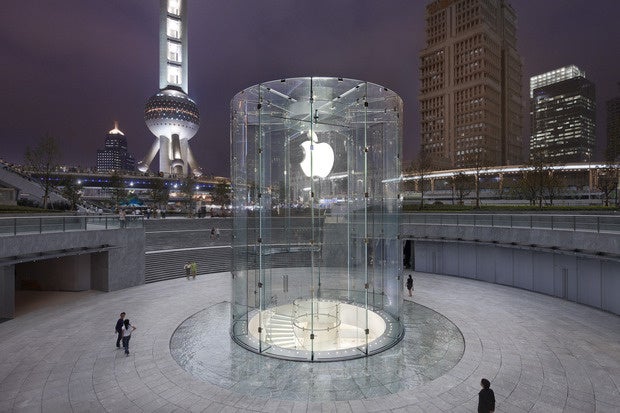 Apple Store in Pudong, Shanghai, China. Credit: Apple
Although Apple announced record revenue from its Greater China sales region this week, the company's strategy has enough legs to push the market into the No. 1 spot on its books, analysts said today.
"It may take a couple of years, but China can become Apple's biggest," said Jan Dawson, chief analyst with Jackdaw Research.
The Americas, dominated by the U.S., remained Apple's largest sales region in the March quarter, generating $21.3 billion or 37% of the $58 billion total. But Greater China -- composed of the People's Republic, Taiwan and Hong Kong -- came in second with $16.8 billion, or 29%, supplanting the usual No. 2, Europe, for the first time.
Revenue from China surged 71% compared to the same quarter the year before, fueled by impressive iPhone sales.
CEO Tim Cook credited the iPhone for China's growth, saying that iPhone sales there were up more than 70%. Analysts, including Ben Bajarin of Creative Strategies, citing their data, confirmed that Apple sold more iPhones in Greater China than in the Americas, a first.
Later, Apple CFO Luca Maestri said that the Cupertino, Calif. company had sold more iPhones in China than in the U.S. during a post-earnings interview with Bloomberg on Monday. Apple does not break out device sales by country or market, however, and Maestri declined to detail the numbers to Bloomberg.
Apple's success in China confirmed what analysts had anticipated: that the introduction last fall of the larger iPhones, particularly the 5.5-in. iPhone 6 Plus, would be hits in Asia, where larger smartphones have a much stronger track record than in the U.S.
"The question was always about how well Apple could do in China," said Patrick Moorhead, principal analyst with Moor Insights & Strategy. "What's clear is that Apple can knock it out of the park there without taking price cuts. Their model works best when there are good, better and best choices. If you can get to best, you have a pretty good shot at making the model work."
"It's hard to look past the iPhone," added Dawson, of interpreting Apple's earnings. "And China and Asia were the key components to that."
Dawson pointed out that Apple's "Rest of Asia Pacific," the sales region that omits Greater China and Japan, also boosted its revenue to the tune of a 48% increase to $4.2 billion, or 7% of the total. Together, Greater China and the Rest of Asia Pacific produced $21 billion, almost as much as the Americas.
"The larger phones Apple launched [last year] are a great fit for a region where large smartphones are far more popular than tablets, and where domestic Asian brands had mopped up much of the opportunity," Dawson wrote on his Jackdaw blog.