Mark Hamill talks Squadron 42: Oh how far we've come since Wing Commander
Luke Skywalker has nothing on Steve Colton.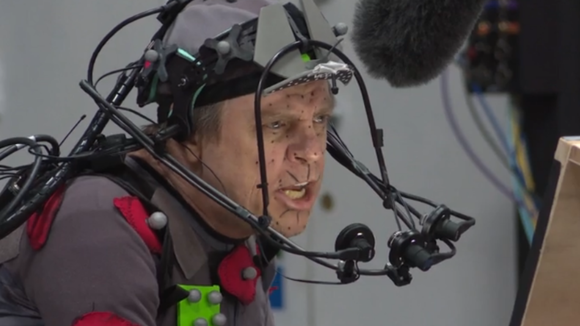 Performance-capture, sometimes called motion-capture, or how to turn a real-life actor into an animation.
What are your thoughts on Star Citizen becoming a reality through crowdfunding?
It was 100-percent crowdfunded. When Chris called me and told me, at the time he said it was about '76.' I thought he was talking about $76,000 and he was talking $76 million. Now it's over $111.6 million. I've been trying to raise money to get Black Pearl [Hamill's comic book] made and this movie is my pet project and I want less than $10 million for us—it's kind of a raw, low-budget indie movie. And I was stunned. It just shows you how passionate these gamers are because it started in October 2012 and its still going on today. I don't know how many millions of people must be involved in raising that kind of money, but that just shows you the reputation that Chris has developed over the years in the gaming community because he's very well respected. People are really excited for this game, and it's interesting because people either have no idea what it is at all or they're ultra-passionate fans. There's no middle ground. That's the very definition of a cult following.
What's it like to see yourself virtually?
The way they're able to render my character, Steve Colton...he's a grizzled lifer as we used to call them. My dad was in the Navy and he called these guys that were in the service from the moment they left high school until their retirement 'lifers.' He's grizzled. He's cranky. He's seen it all. I tried to give that in my performance and I saw the rendering and thought it was great. It's like a combination of Jack Palance and Lee Marvin. He's just a badass guy. That's one of the reasons I love animation so much; you're able to play characters who you'd never be able to achieve if you were seen. The fact that you can play all these character parts using just your voice is amazing. I never would have been able to play the Joker with live action because they'd want somebody tall and lanky. But in Squadron 42 it's taking that idea of the animated voice even further because they can adjust you and make you as tall or short or as wide or as whatever they want as needed, which is thrilling to me. It really liberates you and makes you instantly more able to play a much wider range of roles.

Hamill notes how anything goes in video game acting—you're not constrained by your physical body and therefore can play many more characters.
Previous Page 1 2 3 4 Next Page