Mark Hamill talks Squadron 42: Oh how far we've come since Wing Commander
Luke Skywalker has nothing on Steve Colton.
Mark Hamill is a lot busier this time around in Star Wars Episode VIII. The actor, who reprised his role as Luke Skywalker in Star Wars: The Force Awakens, took a break after a long day of filming the franchise's eighth installment at London's Pinewood Studios to talk about his return to video games.
Hamill is part of an all-star cast that spent time with game designer Chris Roberts (creator of Wing Commander) to bring full performance-capture acting to the characters in Squadron 42. The upcoming PC action game is part of the massive crowdfunded Star Citizen universe. Hamill talks about his second stint with Roberts, and how much technology has advanced in the PC gaming space, in this exclusive interview.
What was it like reteaming with Chris Roberts after so many years?
What a great acting surprise. It seemed to be a year of happy surprises, to get called back by The Flash people, assuming that they're going to have me play The Warden. And low and behold, they want me to play The Trickster again. What a delight! A wonderful part, and something that I'd never thought I'd return to. You could say that about the Star Wars franchise. Same story.
And with Chris, from the first time I met him, I just could relate to him so easily. He's fun to be around. He's incredibly smart, so personable, so knowledgeable and passionate about the project that he was describing. I played games with my children when they were small, but at this point, I really didn't understand what a leap forward the technology has taken over time, so I had no expectation. I thought this was a closed chapter in my life, and when he called and said, I'd like you to do this, I didn't even have to read the script. I accepted immediately because I trust him so deeply.
At the time, Wing Commander was cutting edge, but now so many years later this Star Citizen: Squadron 42 is pushing things a lot further. What was it like to step into this performance capture?
The technology now is the next generation of the facial rigs and the full 3D scans of the actors, and it allows so much more detail and nuance. Back then, just the fact that you had live action characters to simulate almost a film experience was a feat. This is integrating the characters into its own world, so there's a cohesion to all the elements, and it's extraordinary. You put these rigs on and they've got these cameras on your face. They've got so many different cameras around the studio.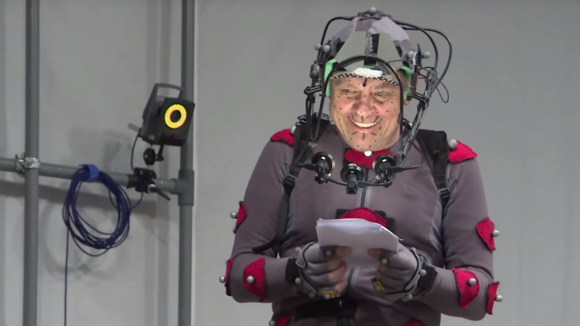 Performance-capture acting involves three cameras on the face, 50 cameras capturing body movements, and a whole lot of sensors.