Many hospitals transmit your health records unencrypted
Healthcare IT organizations often lack budget and personnel to address security needs
The recent study by Brookings showed that since late 2009, the medical information of more than 155 million Americans has been exposed without their permission through about 1,500 breaches.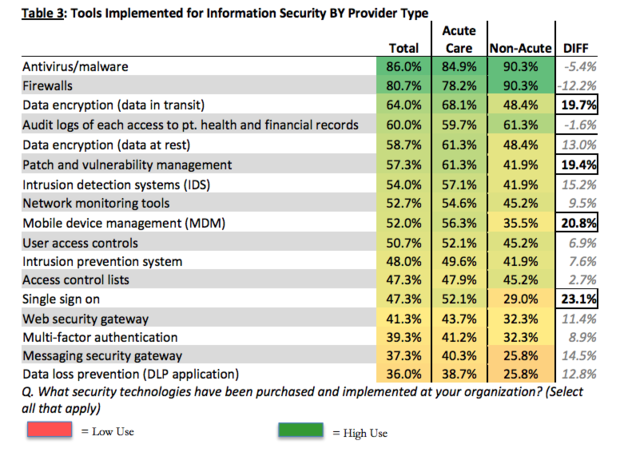 The percentage of acute and non-acute healthcare facilities that have implemented various forms of IT security.
The new HIMSS study showed that healthcare IT organizations rely on a limited portfolio of security tools, which may be due to providers lacking appropriate personnel and/or budgets to address their needs.
Acute care providers, the study found, appear to have a greater array of security technologies in their portfolio than do non-acute providers.
Many healthcare organizations are also struggling with network patch and vulnerability management. Only 61% of acute cate providers and 42% of non-acute providers say they have a patch and vulnerability management program, the survey found.
"Essentially, where technology exists, there are vulnerabilities. Such vulnerabilities can sometimes have a high likelihood of exploitation," the study stated. "Without a program in place, there can be a large time window for hackers to exploit an unpatched system (especially if systems are patched or upgraded on a reactive, ad hoc basis). Time is money, including for hackers, and they are likely to go after low hanging fruit."