Lowes announces Iris 2.0, marking a long-term commitment to its connected-home platform
The entirely redesigned system debuts Monday with lower price points, better mobile capabilities, and deep tie-ins to Lowes' core businesses.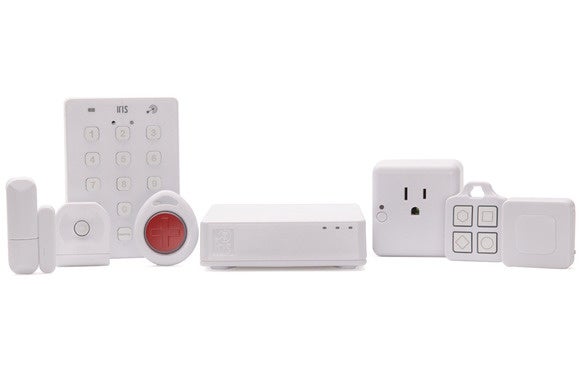 Credit: Lowe's
Lowes debuted the second generation of its Iris connected-home platform Monday, moving it from an automation and monitoring solution to one that manages and maintains the home as well. The new platform supports up to 75 connected-home devices, and refocuses control of Iris from the desktop to mobile.
"Helping you maintain your home is a shift in strategy," Iris vice president and general manager Mick Koster said in an interview last week. "We designed this generation to be simpler, more intuitive, and to deliver a more personalized experience."
A new mobile app is also ready for download, one that allows the user to customize the interface with photos of their home and family. Device control includes animations of what's occurring to give the app a more connected feel, Koster added.
Why this matters: Home automation promises to be the 'next big thing' in home improvement. Both Lowes and its competitor The Home Depot have focused heavily on the connected-home concept, although only Lowes has its own system. With the second generation of Iris, Lowes has cut prices and gave consumers greater leeway in getting started with home automation, making it more personalized and leaning on its strengths as a home-improvement retailer.
Iris gets cheaper, more customizable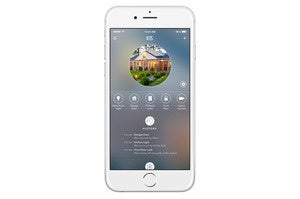 The new Iris system includes a new hub and a focus on mobile apps. Credit: Lowes
Iris is now sold in a modular fashion, lowering the cost of getting started by about $20 from the previous generation. First-generation Iris customers chose between several kits, ranging in price from $180 to $300. The problem with this, Koster said, was that purchasing another kit meant purchasing another hub, and that was the only way to purchase a set of sensors at a discounted price.
That is no longer the case. The new Smart Hub is sold separately for $60, and consumers can choose to purchase either one or both of two bundles: a Security Pack for $99, and a Home Automation Pack for $129. The security pack includes two contact sensors, one motion sensor, and a smart keypad, while the home automation sensor includes the above sensors, but instead of the keypad includes a Smart Plug and a Smart Button.
Additional sensors and devices, including smart plugs, pendants, and fobs as well as additional sensors are offered separately and retail from $23 to $40.
Early adopters not left behind
Despite going all in on Iris 2.0, Koster promised that Lowes will not leave customers who purchased the original Iris system behind. Both systems will coexist for the "foreseeable future," and nearly all sensors will be compatible with the new hub. Lowes will also invite current customers to upgrade to the new hub for free, he added.