LG V20 review: The Android phone for hardcore enthusiasts
Forget about LG's content-creation claims. The V20 is the phone for nerds who just want to play.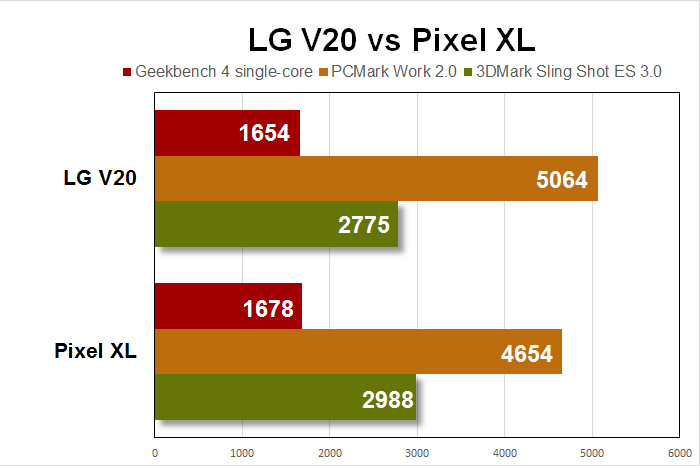 We run 11 different performance tests, and they all tell the same story: In terms of raw benchmarks, the V20 and Pixel XL run neck and neck.
The V20 runs a skinned version of Android 7.0, making it the only phone other than the two Pixels to run a version of Nougat, Google's latest operating system. In terms of core silicon, the V20 includes Qualcomm's Snapdragon 820 processor, 4GB of RAM, and either 32GB or 64GB of storage. All of this would pretty much be state-of-the-art for Android phones, if not for the fact the Pixels run a slightly more advanced Snapdragon 821 chip, as well Android 7.1.
The Pixel XL feels palpably zippier than the V20, and this is a major reason why I prefer Google's phone in a two-way battle. The Pixel's OS and app behaviors just feel quicker and more fluid than the V20's, perhaps due to system tuning on Google's part. Our benchmarks didn't expose dramatic performance deltas between the two phones, but everything about the Pixel XL feels faster, cleaner, and more modern—and that includes the vibe of the system software.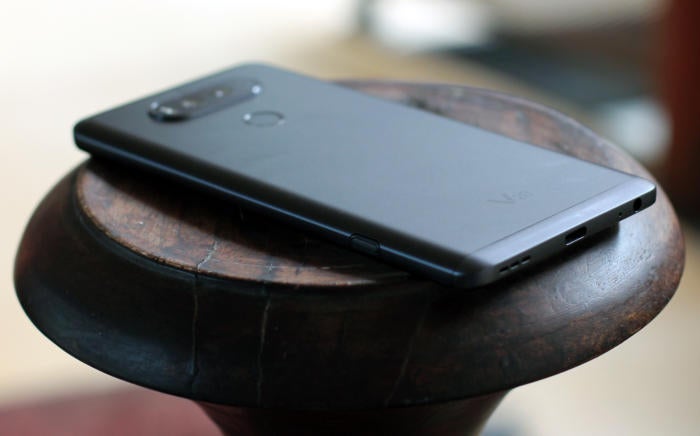 Viewed from behind, you may not guess the V20 has a removable back panel.
LG deserves kudos for not junking up its UX 5.0 skin with a bunch of unnecessary apps and annoying interface decisions. Nonetheless, the V20's system experience is simultaneously busy and clinical, at least relative to the Pixel, where Google has made strides toward simplicity and whimsy. From its app icons to its wallpapers to its weather widget, the V20 experience simply feels older—and that matters a lot when you're using your phone multiple times an hour, every day.
The V20 also lacks Google Assistant. So while it's an awesome Android phone, it's just not the most advanced expression of an Android phone, and all its sundry content-creation tools and extra little doodads can't push past the Pixel on that score.