LG V20 review: The Android phone for hardcore enthusiasts
Forget about LG's content-creation claims. The V20 is the phone for nerds who just want to play.
I was actually pretty happy with how the V20 captured sunbeams peeking through the fog on the top of Mount Davidson. I was focusing both cameras on the sunbeams, and not the trees in the foreground. The Pixel certainly created a more atmospheric shot, but the V20 retained more dynamic range across the entire scene.

These images are more of a toss up. I think the Pixel XL delivers a more dramatic image, while the V20 erred toward greater dynamic range.
Finally, I shot an abstract painting under extremely low light conditions in my living room. Both phones were locked down on a tripod to eliminate variables under very challenging circumstances. By and large, the V20 delivered strong clarity and definition, and retained more information in the darkest areas of the image, but was off on color accuracy. The blues in the Pixel XL photo, for example, are much more true to life.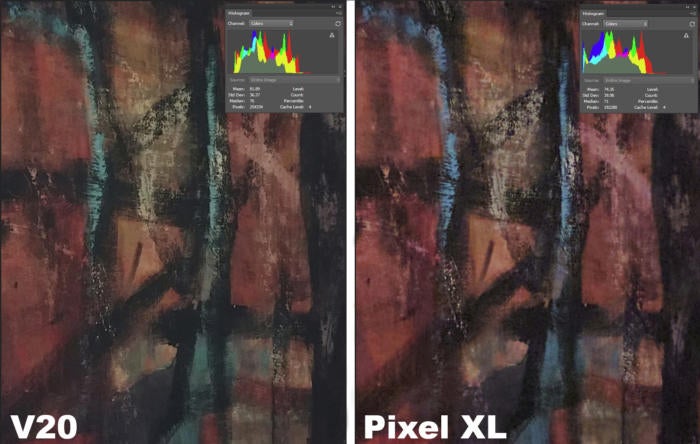 The V20 matched the Pixel XL in terms of sharpness and clarity, but its color accuracy is off in this low-light scenario.
If we look at all my photos, and add in the tests conducted by our video team, we find that the V20's camera isn't bad—it's just that the Pixel XL's images are better. And that's relevant because LG has positioned the V20 as the go-to phone for content creators.
All that said, the V20 does have a second wide-angle lens, which none of the other manufacturers offer. It's arguably useful for taking sweeping environmental panorama shots, but images will suffer barrel distortion on the edges, and when you zoom into fine detail, you'll find a disturbing lack of clarity. That edge distortion looks particularly bad when shooting group photos up close. I'd rather ask people to squeeze in tightly instead of using this lower-spec'd, 8-megapixel sensor.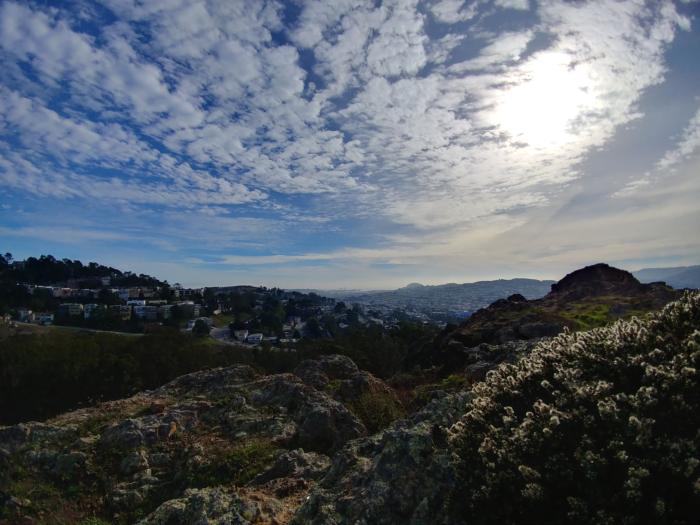 The V20's wide-angle lens has a 135-degree field-of-view and captures dramatic colors, but I don't like the barrel distortion.
On the plus side, LG still includes a full suite of DSLR-style manual controls for both of its rear-facing cameras, and they help cement the V20 as the perfect phone for tinkerers who really want explore their tech toys. I love the ability to manually control focal length, and set a 30-second shutter speed for night-time shots on a tripod.
Video and audio recording
During my hands-on with the V20, LG talked up Steady Record 2.0, an electronic image stabilization technology that uses the phone's gyro sensor to make shaky videos appear smooth and fluid. Steady Record 2.0 also uses digital "image stream analysis," in which "objects are adjusted to appear in the same position between each frame by analyzing 15-20 frames." LG put on an impressive presentation, but multiple weeks of testing showed me that LG's video image stabilization can't touch Google's or Apple's.
Previous Page 1 2 3 4 5 6 7 Next Page