LG V20 review: The Android phone for hardcore enthusiasts
Forget about LG's content-creation claims. The V20 is the phone for nerds who just want to play.
Unlike Google or Apple, LG provides a full suite of DSLR-style manual controls for still images (though for comparative testing purposes, we shot all photos in LG's auto mode.) On the video side, the V20 taps into Steady Record 2.0, an electronic image stabilization technology that enlists the phone's gyroscope to smooth out videos taken with a shaky hand.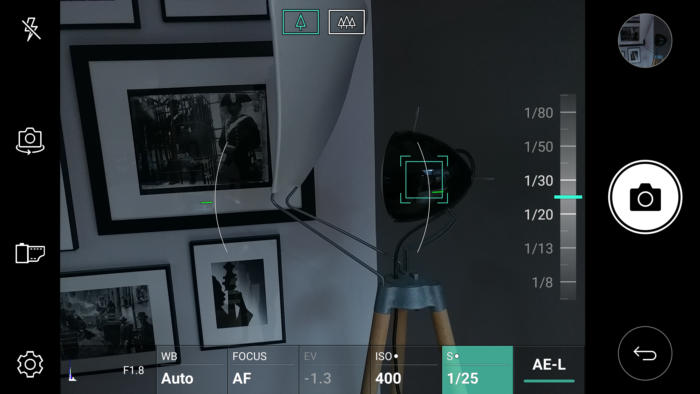 It wouldn't be an LG phone without a full suite of DSLR-style manual controls in the camera app.
LG also put a lot of thought into the V20's sound-recording capabilities. The phone boasts three high AOP microphones for high-fidelity audio pick-up, and both the video camera interface and an HD Recorder App offer deep controls to fine-tune audio capture. In the video camera alone, you can adjust the directivity of the mics fore and aft; toggle on a Wind Noise Filter; and move sliders for Gain, a Low Cut Filter (to reduce background noise), and LMT (a filter that determines the loudest volumes the mics will record).
Still image performance
It all sounds wonderful, but real-world testing doesn't bear out all of LG's content-creation promises. Pitting the V20 against the Pixel XL, iPhone 7 Plus, and Samsung Galaxy 7, we found that LG's phone does indeed offer the best sound recording, but falls short of the Pixel XL in still image capture, and really falls down in video image stabilization. Check out the video below for the full test results, or just keep reading for a bit more detail.
First up: still images in daylight. Using the V20's standard-angle lens in auto mode, we found that the phone delivered solid color reproduction and dynamic range, but really fell apart when we looked at definition and image clarity. Just look at how the V20 compares to the Pixel XL in this shot of the cross on the top of Mount Davidson. The striations on the cross are sharp and defined in the Pixel's photo, but appear blurry and impressionistic in the V20's image.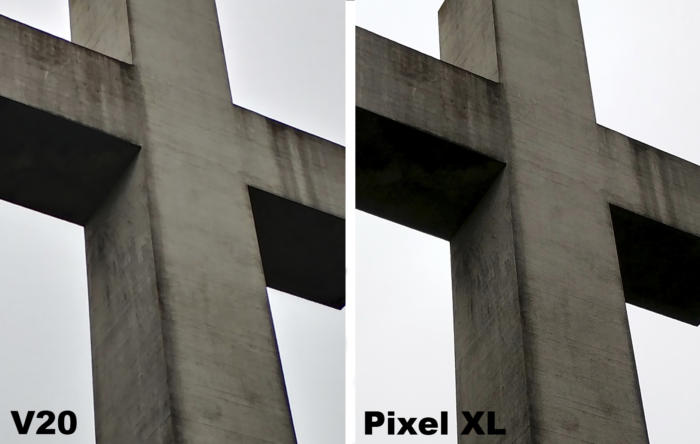 These are crops of much larger images. The cross is 103 feet tall, and I was shooting about 40 feet from its base. Notice how much more detail we see in the striations on the cross in the Pixel's image.
The following shots of succulents really drive home how much clarity the V20 gives up to the Pixel XL when shooting under brighter morning sunlight. We're getting sharper detail and more vivid colors from Google's camera.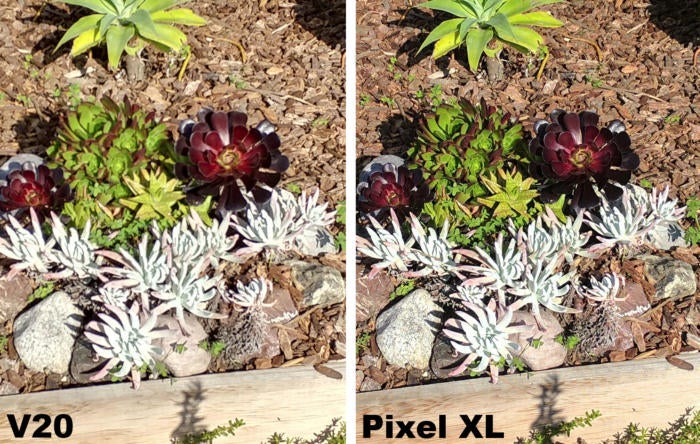 These are crops of much larger images shot about six feet away. I was shocked by the V20's lack of sharpness.
Previous Page 1 2 3 4 5 6 7 Next Page