LG V20 review: The Android phone for hardcore enthusiasts
Forget about LG's content-creation claims. The V20 is the phone for nerds who just want to play.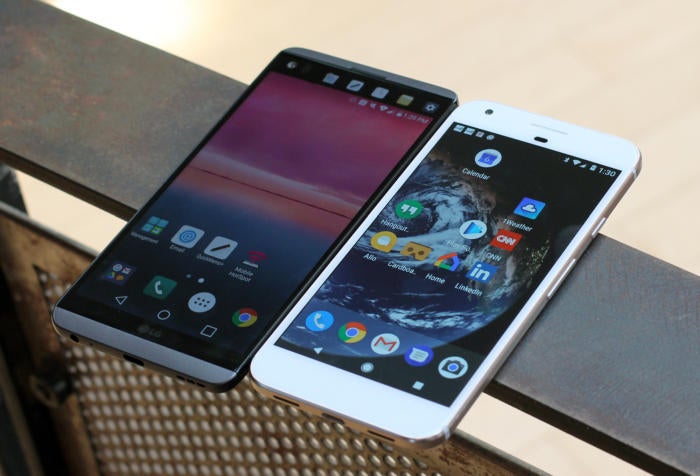 The V20 (left) is just about as wide as the Pixel XL, but stands a bit taller.
You'll find thinner bezels compared to the Pixel, but if you think camera bumps are ugly, you'll hate the big, oval projection that surrounds the V20's considerable camera apparatus (two rear cameras, dual flash, and a laser autofocus sensor). The bump makes the V20 look more like a piece of "equipment" than a fetish-worthy object d'art like the Pixel XL or iPhone 7 Plus.
LG has a combination power button/fingerprint sensor on the rear panel. This rear placement makes it impossible to use the button as unlocking trigger when the phone is lying flat on a table, but that's OK because the V20 implements LG's excellent "knock knock" feature: From a completely dark screen, you tap a personalized, six-part pattern onto the display, and the phone unlocks. It's an awesome quality-of-life feature that other manufacturers should steal.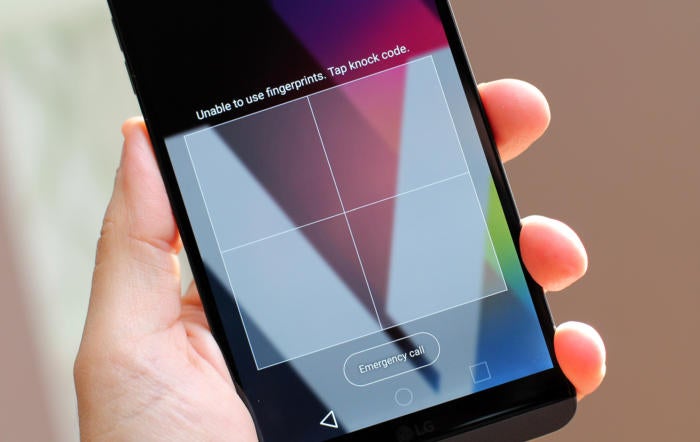 The knock knock code invites you to tap a specific six-part pattern to unlock the phone.
Like so many previous LG phones, the V20 has an SD card slot behind a removable battery (3200 mAh). The battery-swapping scheme is better than the G5's—which required a violent snap to separate the battery from its chin—but still presents challenges. In the new scheme, you press a button on the side of the phone, then pry the aluminum back panel off the chassis. It's difficult to tell when the two pieces disengage, and I frequently had to press the button multiple times before the phone would separate.
On a positive note, when the V20 is assembled the seam between the two pieces of the body is virtually imperceptible to the touch. For a phone with so many body panels of varying materials, the V20 is built to very tight tolerances.

Press this button, and the V20's back panel will disengage. From there you can fiddle off the panel to eventually remove the phone's battery.
An interesting take on dual displays
With a 5.7-inch display, the V20 delivers the biggest screen size among contending flagship phones now that the Note7 is dead. Pixel density is a whopping 513 pixels per inch care of a 2560x1440 resolution, and the display is bright with a white balance that errs on the cool side.
The phone runs Android 7.0, so it doesn't yet have the Night Mode feature built into Android 7.1. Nonetheless, LG provides a Comfort View feature that warms up the display's color temperature at the push of a button. Comfort View even has three intensity settings so you can customize the look for eye-soothing reading before going to bed.
Previous Page 1 2 3 4 5 6 7 Next Page