Lego Fusion lets kids build a videogame world with real-life Lego bricks
Lego Fusion is a new way to combine the fun of a Lego videogame with the do-anything creativity of Lego bricks.
Lego bricks never get old, but that doesn't mean we don't want new ways to play with them. I love the Lego videogames too (especially Lego Batman and Lego Indiana Jones), because it's so fun to run around the fully built Lego worlds, smashing everything you see--but you don't get to build anything new or creative.
Until now.
Lego Fusion, announced Thursday by Lego's Future Lab, is a new way to combine the fun of a Lego videogame with the do-anything creativity of Lego bricks. Each set comes with 200-plus bricks, a companion app for iOS and Android, and a special building plate that helps you bring your own creations into the game world--whatever you build becomes part of the game.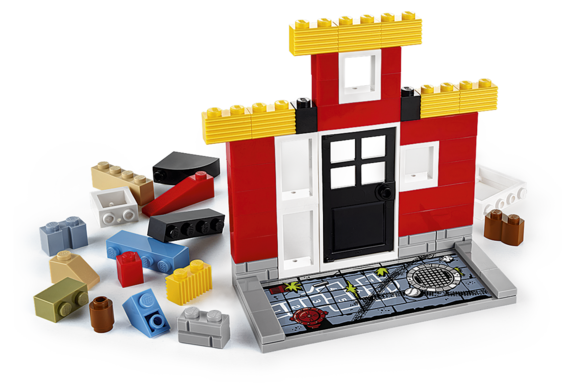 Town Master facades can be up to 16 bricks wide by 16 high, and they must have a door. But after that, it's up to your child's imagination.
In one set, Town Master, you're building a new town and keeping your citizens happy. If someone wants pizza, you have to build her a pizza parlor. So you grab the special base plate and the bricks, and you design a 2D facade. It has to have a door, and max out at 16 bricks wide by 16 bricks high, but other than that you can use your imagination--maybe the front of your pizza parlor looks like a checkered tablecloth, or even a tomato.
When you're done building, you'll use the camera on your smartphone or tablet to "scan" your facade: First the camera recognizes the base plate's pattern, then onscreen guides help you tilt the device to get your whole facade into the camera's view. Then just press a button, and watch as inside the game, a team of Lego construction workers appear, hammering and building and stopping for adorable coffee breaks. And then poof, your facade appears in the game as a full three-dimensional building. A new citizen pops out of the door with his own needs, you're prompted to build something new, and your town keeps growing. Completing missions and adding extra decorations keep you plenty busy maintaining your town's overall happiness score.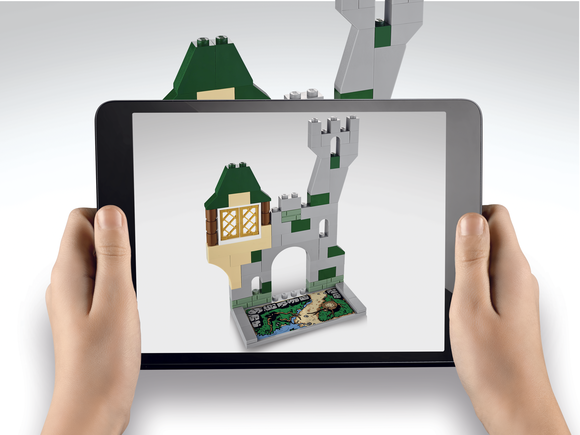 Once you've built something-like this new level for Tower Battle-you'll use your device's camera to scan it into the game.
If that sounds a little too Sims, how about some tower defense? Lego Fusion's Tower Battle set has you rebuilding a king's fallen tower one level at a time, and after each level is built, you defend it from airborne attackers. Instead of each level giving you a new citizen at random, you pick a type, from archers to wizards and beyond, and those citizens help defend your tower. When your tower takes damage, you can repair it with timed builds using your physical bricks. Even though these games are aimed at kids as young as 7, Tower Battle involves a good deal of strategy and ramps up the difficulty as you play.