Kindle Oasis review: The best e-reader by far (it's also the most expensive)
While Both the Oasis and the Paperwhite have identical display sizes, their overall footprints and weight are significantly different.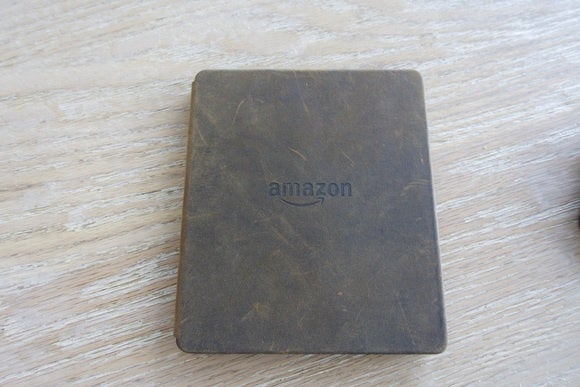 The more abuse the Oasis' leather battery cover takes, the better it looks.
The edge of the Oasis that the battery cover connects to serves as a housing for the e-reader's battery; as such, it is wider and deeper than the rest of the device. Why jam the battery into one end of the thing instead of spreading it out flat like you see with other Kindles or tablets? Because doing so allows for a couple of awesome features. First, when the Oasis, is removed from its cover, its battery bump makes a great handle for one-handed reading.
Second, the shape and width of the bump is such that when you hold it, your thumb naturally rests on the wide bezel just to the side of the Oasis' display. It's the ideal location to place a pair of page-turn buttons, so that's exactly what Amazon did.
Lump all of this together and you get a lightweight e-reader that you can comfortably hold and turn the pages of the book you're reading with one hand. And thanks to a built-in accelerometer, the Oasis can be used by left- or right-handed individuals without compromise. Simply flip the Oasis over and the text on its display and page-turn buttons will adjust to the device's new orientation. Hate buttons? No problem, the Oasis can also be controlled via its touchscreen.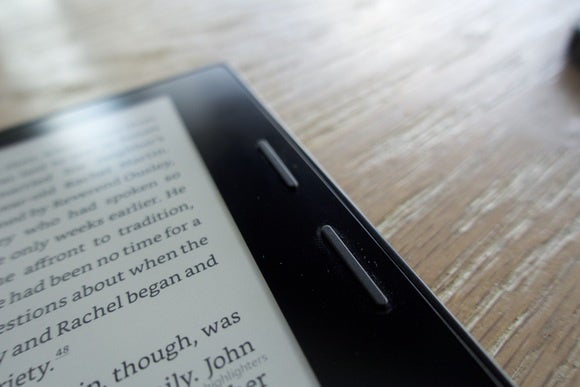 Buttons on the bezel let you move backward or forward through a book.
Limitations
So, that's the fancy. Let's talk about the plain.
The Oasis uses the same operating system as Amazon's other Kindle e-readers do: if you've used a Kindle in the past, you'll find no surprises here. It has the same amount of internal storage as the Paperwhite and Voyage. Despite having 1GB of RAM—twice that of a current generation Kindle Paperwhite—I didn't notice a huge improvement in performance.
None of its shortcomings are terrible, but you'd like to think that with it's costing $170 more than the latest iteration of the 3G-equipped Paperwhite ($100 more than the 3G Voyage), there'd be a significant boost in performance. There isn't.
Bottom line
With similar performance to other e-readers that cost much less, we can't recommend Amazon's Kindle Oasis to everyone. But for voracious readers with a taste for luxury, this e-reader's light weight, excellent ergonomics, and even backlighting are worth the premium.
Note: A version of this review was published earlier on Macworld.