Kindle Oasis review: The best e-reader by far (it's also the most expensive)
While Both the Oasis and the Paperwhite have identical display sizes, their overall footprints and weight are significantly different.
The base model of Amazon's latest and best e-reader, the Kindle Oasis with Wi-Fi, costs $290. The Oasis version I tested, which supplements its Wi-Fi adapter with a 3G connection (so you can download e-books while on the go) and that doesn't present you with "special offers" (Amazon's euphemism for advertisements that appear on the Kindle's lockscreen), sells for $380.
In a world where it's possible to pick up a great little multi-function tablet like the 16GB Apple iPad Mini 2 with Wi-Fi and cellular for just $19 more—or for that matter, Amazon's latest Kindle Paperwhite with 3G and without lockscreen ads for $170 less—convincing anyone that a one-trick pony like the Oasis is a smart buy is a tough sell.
But if you must have the best, and price is no object, it's equally tough to argue that there is any e-reader on the market that's superior to the Kindle Oasis.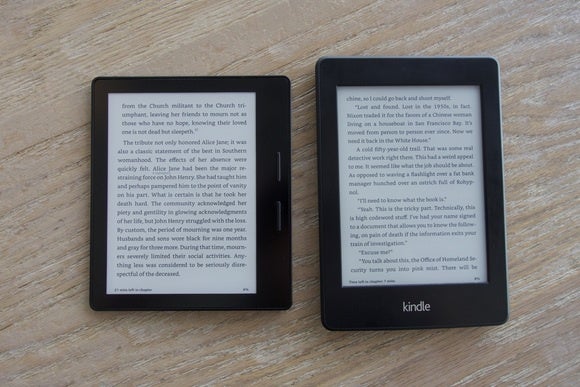 While Both the Oasis and the Paperwhite have identical display sizes, their overall footprints and weight are significantly different.
Smaller, lighter, and brighter
The first thing long-time Kindle users will notice about the Oasis is its size: Measuring 5.6 x 4.8 x 0.13 inches and weighing a mere 4.7 ounces, the Oasis is the thinnest, lightest Kindle that Amazon has ever built. It's nearly two ounces lighter than a similarly outfitted Kindle Voyage ($290), and it weights almost three ounces less than the current-generation Kindle Paperwhite.
Like its chunkier cousins, the Oasis comes equipped with a six-inch, anti-glare, 300 ppi display. With the backlight turned off, I didn't notice a difference between reading on my 2014 Paperwhite and the Oasis. But with the backlights turned up, it's a very different story. The Oasis employs 10 LEDs to ensure even backlighting across its display, beating out the patchier light the Paperwhite's four LEDs produce. This isn't to say that the Paperwhite is a horror to read on—I've been satisfied with mine for years. The Oasis' display backlighting is simply better.
The Oasis' light weight and superior backlighting come at a cost, however; it has a significantly shorter battery life than its recent predecessors. Where a Kindle Paperwhite can potentially go for months between charges, the Oasis' internal battery can manage only about two weeks of use, depending on your reading habits.
To boost the Oasis' run time, Amazon baked a second battery into its leather cover, which is included (you can choose from chestnut brown, black, or red. Covers cost extra on other Kindle models.) The cover starts charging the Oasis' internal battery as soon as it's magnetically mated to the e-reader's asymmetrical chassis. Amazon claims that between the Oasis' two batteries, it's possible to wring eight weeks of use out of the device, provided you keep your reading to 30 minutes per day and keep the screen lighting turned down to a reasonable level. On average, I read a few hours per day. As such, a month into my using the Oasis, I've already had to charge it once.