Just Cause 3 review: Blow up the outside world
They made another sequel. Why? Just 'cause. Okay, I'm done.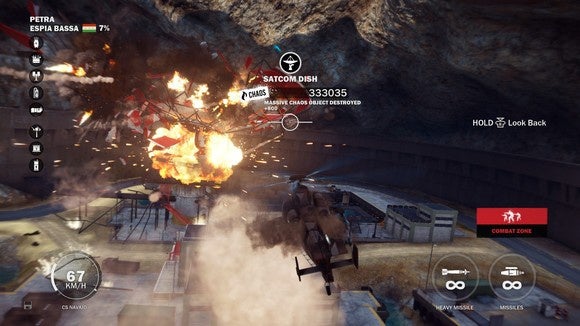 It occurs to me that Just Cause 3 commits many of the same sins I detest in other third-person, open-world action games. The massive (and mostly-empty) map, littered with icons. Repetitive objectives. Empty side-missions. Inane collectibles.
But most open-world games try to half-heartedly shuffle you through everything because that's the core of the game. Take away every icon in Assassin's Creed, for instance, and you're left with a big ol' city and a generic hooded guy who's good at climbing walls. Take away the icons in Just Cause 3, and you're still left with a ridiculous destruction sandbox—one that encourages you to ask "What happens if I use my grappling hook to tether this jeep to this enemy helicopter and then drive the jeep off a cliff?"
And on the occasions when Just Cause 3 drags, its story actually picks up some of the slack this time around. Gone is the self-seriousness of Just Cause and Just Cause 2, replaced with a Saints Row-esque goofiness that better befits Rico's chaotic methods and larger-than-life status.
It would be a shame to spoil some of the game's biggest set-pieces, so instead I'll highlight the fact that the game opens with Rico riding on the back of an airplane, an infinite supply of rockets at hand. There's no futzing around, no "working your way up." Just instant insanity.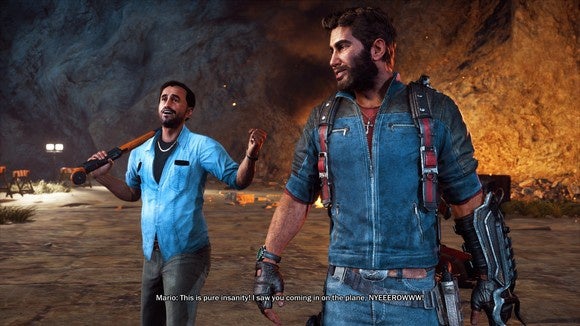 See, even Mario knows it was insane.
Even the main menu is a clue to the game's new tone—Rico, sitting on a beach, looks at an explosion in the distance and then raises his glass in a toast. It's the silly fourth-wall winking that Saints Row long ago mastered. And while nothing in Just Cause 3 is quite as clever as Saints Row, it's a massive step up from the "MY NAME IS BOLO SANTOSI" tedium of its predecessor.
Explosions in the sky
As far as the game itself, it feels pretty much like Just Cause 2. I think console players will be more bowled over by Just Cause 3's changes—Multiple tethers! A wingsuit!—because to be honest, most of the tentpole features here were lifted straight from the Just Cause 2 modding community.
That's not a bad thing. Avalanche has taken some of the best community hacks, polished them up a bit, and rolled them into the core game—and those features are still great. It does mean, however, that how "fresh" Just Cause 3 feels is entirely reliant on how deep you got into Just Cause 2 modding.
Previous Page 1 2 3 4 Next Page