Just Cause 3 review: Blow up the outside world
They made another sequel. Why? Just 'cause. Okay, I'm done.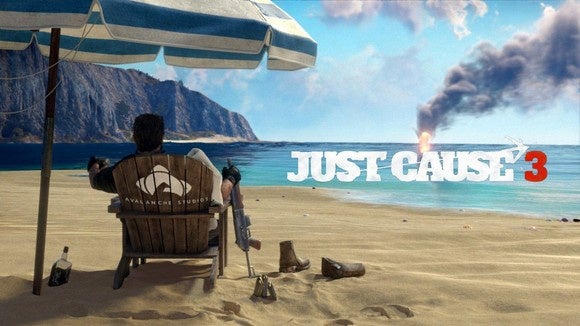 It's a quiet day in the coastal town of Ponere. A boxy old car from the 1980s putters down the street. A man sits fishing in the harbor. And a fighter jet swoops out of the sky, firing two missiles into the side of a propaganda van before crashing into a statue of military dictator General Di Ravello. A man parachutes through the smoke and flames, cackling and shooting a machine gun into the air. Then he pulls down the flag of Di Ravello's corrupt regime and raises the flag of the rebels in its stead.
"Rico! Rico!" the citizens cheer, fireworks bursting overhead. Rico Rodriguez, professional dictator-remover, pumps his fist a bit. Flashes a smile at the crowd. Everyone is so happy, they don't even notice the billions of dollars of infrastructure damage or the hundreds of bodies lying in the street.
Vive Medici.
The rockets' red glare
I adore Just Cause because it is unapologetic in its stupidity. In an industry beset by summer blockbusters, Just Cause 3 is the most summer blockbuster. It's a rocket launcher that shoots eight projectiles simultaneously. It's a man surfing on the back of a fighter jet. It's an infinite supply of parachutes and an unabashed disregard for the laws of physics.
It's a near-endless supply of jaw-dropping spectacle.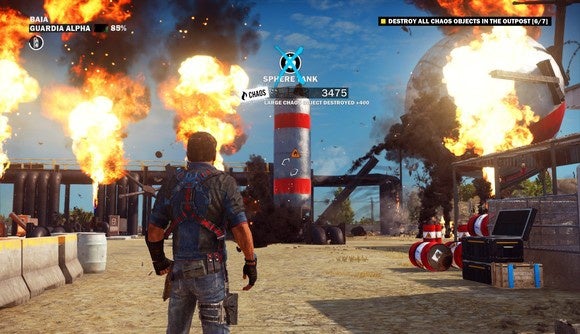 Once again you take on the role of Rico Rodriguez, now a veteran at dismantling corrupt dictatorships. Just Cause 3 brings us to Rico's Mediterranean homeland, the island chain of Medici, suffering under the cruel regime of General Di Ravello. His power is concentrated in various outposts, towns, and military bases. Your job is to blow up anything that is red—antennas, radar dishes, fuel tanks, generators—with literally anything at your disposal. Destroy all the red things and the town/outpost/base goes over to the rebels.
It is a power fantasy without equal. There is no challenge to Just Cause 3, per se. Weapons are plentiful, given how easy it is to airdrop in new tanks or rocket launchers or helicopters. You have infinite amounts of C4. Your grappling hook can shoot up to six tethers, which attach an object to another object and then yank the two together with predictably destructive results. Bases don't need to be taken out in one fell swoop—if you die, you respawn nearby without losing any progress. And honestly, you're more in danger of blowing yourself up than you are dying at the hands of Medici's dumbest military.
The rebels may be the "underdog" in this fight, but not Rico Rodriguez. Rico is a god—a fiery, wrathful god. He rides into town on a plane/boat/tank/helicopter/fighter jet/parachute/wingsuit/sports car and leaves Medici in ruins behind him. And the people cheer him for it.