Is social media reviving or killing our classrooms?
Social media can wreak havoc when students become distracted in the middle of class. Some educators have gone so far as to ban social media in the classroom, but others says that learning to control social media is part of the learning process and the benefits outweigh the negatives.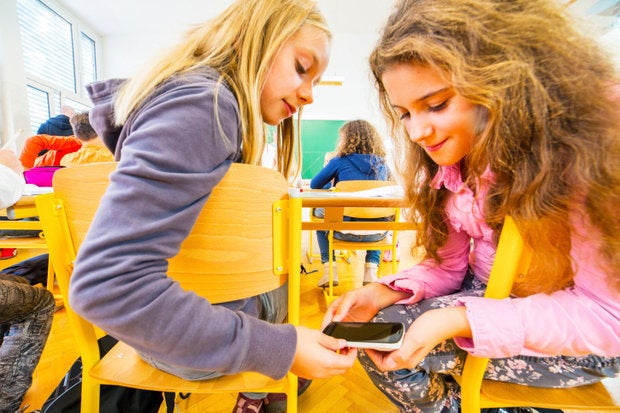 Credit: Thinkstock
Remember the days when back to school meant a trip to the store for new pencils, paper and maybe a spiral notebook or two? Today's students, particularly those in the higher grades and college level, have little time or interest in those analog commodities -- they're carrying laptops, tablets, smartphones and other gadgets.
Putting technology in the hands and laps of students opens a vast pool of opportunity and knowledge, but it can also be distracting. Especially when students are using those devices to check Facebook, Twitter, Snapchat or any one of the hundreds of social platforms that beg for their attention right in the middle of class.
Some administrators and educators have taken things to the extreme by outright banning the use of mobile devices in the classroom. Meanwhile, others believe that classrooms are the perfect environment to break bad habits and encourage students to embrace these tools for productive means.
"The biggest challenge I face as an educator is that students use social media as a toy instead of a tool," Kathleen Stansberry, assistant professor of public relations and social media at Cleveland State University, writes in response to questions from CIO.com. "It is often assumed that millennials are social media experts because they grew up with interactive media. They may know how to use the technology behind sites like Facebook and Twitter, but they don't understand the strategy that goes into using social media to accomplish professional, personal, or organizational goals."
Social Media is a 'Constant Temptation'
Stansberry says she allows students to use mobile devices during class time because the "constant temptation" they face from social media sites won't end after graduation. "I believe learning to control social media use in professional situations is part of the learning process," she adds.
"As with any disruptive technology, social media must be assimilated into our lives -- and during the process, there will be negative impacts. Technology in the classroom results in bullying, distraction, and cheating... and also engagement, deep and authentic learning, and global interactions," Jane Owen, professor emeritus of educational leadership at Midwestern State University in Texas, writes in an email response to CIO.com. "As an administrator, I would never let the negatives overrule the positives."
Teachers have to educate students to be disciplined and responsible in their use of technology, Owen adds. "Why should the next generation have to power down when they come to school and thus receive their educations in a 60s' style classroom because educators can't figure out a way to successfully harness technology?"
Ramani Durvasula, a psychologist and professor at California State University, Los Angeles, says the impacts of social media in the classroom are mostly negative. "It has devolved into a tool of distracted students looking at photographs of ex-girlfriends' or ex-boyfriends' vacation photos during a lecture. How do we know that? The fact that they are smiling at their laptop during a rather plodding lecture on reliability and validity of diagnostic classification," she writes.