Is Microsoft Band a better fitness tracker than Fitbit Surge?
Microsoft's Band activity tracker has a ton of valuable features and a quality color display. The fitness wristband does a few things Fitbit's Surge can't, but it also has some unfortunate limitations.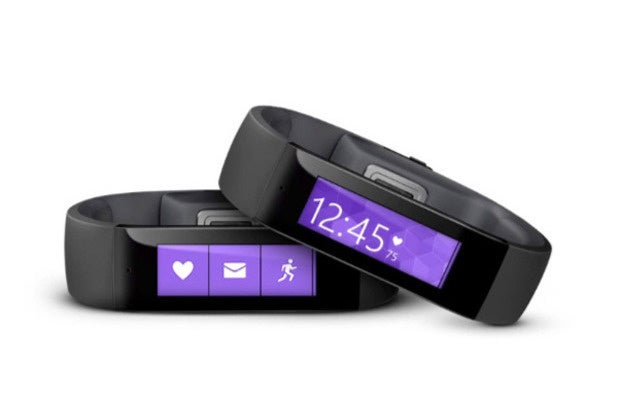 I've been wearing a Microsoft Band fitness tracker off and on for several weeks. Although I have some reservations, there's a lot I like about the $200 activity-tracking wristband. It's a solid options for people in the Microsoft camp -- especially those with Windows 8.1 smartphones -- but how does it fare against market leader Fitbit?
Microsoft Band look and feel
Microsoft Band doesn't lie flat against your wrist, as Surge ($250) and other Fitbit devices do. Instead, Microsoft's rigid, oblong display juts out. The band itself is thick and heavy. However, I adjusted to the design, and there are a few things I appreciate about it, such as its color display.
Display
I like that you can customize the color and background of Microsoft Band's 1.4-inch (320 x 106) color display. You can also rearrange the "tiles" any way that you like. (As in Windows 8, tiles are shortcuts that launch apps, actions or settings.)
Unfortunately, the screen is hard to read in bright sunlight, especially if you wear polarized sunglasses. Fitbit Surge's monochrome touchscreen is more legible, but it's not as attractive as Microsoft Band's display.
Microsoft Band app support
Microsoft Band works with iPhones, Androids and, of course, Windows Phones. I had no trouble pairing and using it with the Microsoft Health app on my iPhone 6 Plus. I also tested Microsoft Band with a Windows 8.1 smartphone, the Nokia Lumia 830.
Microsoft Band feeds detailed, useful activity and sleep data into the Microsoft Health mobile app. You can connect third-party apps, including RunKeeper, MyFitnessPal, MapMyFitness and Strava, to your Microsoft account and exchange fitness data. Fitbit supports a wider variety of compatible apps, however.
GPS and smartwatch features
Microsoft Band and Fitbit Surge have built-in GPS, so you can map your runs. Microsoft Band also delivers smartwatch-style notifications to your wrist, including alerts for incoming email and text messages from your connected smartphone. Surge shows call and text notifications.
Microsoft Band heart rate monitoring
Unlike other fitness bands with optical heart rate sensors, Microsoft Band's sensor is located on the underside of the clasp. So if you wear the display face up on your wrist, the heart-rate sensor is actually located on the underside of your arm. The way you wear the device doesn't affect the heart rate readings you get, according to Microsoft.
Sometimes, during my peak cardio, Microsoft Band's heart rate readings jumped up to 160 BPM briefly, which was 10 to 20 BPM higher than the reading from my Polar H7 chest strap, which is the most accurate consumer device for heart-rate monitoring, according to Consumer Reports and The Wall Street Journal. Microsoft Band's overly high readings didn't last long, however, and overall, its average heart-rate readings and calorie count (as summarized in the Microsoft Health mobile app) were in line with Polar's.