iPhone 7 review: Its speed and camera are crazy-good, but it still drives me crazy
I miss the headphone jack, OK?
I didn't have touchscreen gloves on hand to test—hey, it's California—but we'll follow up with a separate article later. If you live somewhere cold and rely on touchscreen gloves in the winter, you might want to bring your favorite pair to the Apple Store, if possible, to test them out on the iPhone 7 in person.
No more headphone jack
The lack of a headphone jack is more annoying than anything else. But it sucks when you just spent $649-plus on a piece of technology and then have to deal with new annoyances that previous editions didn't have. Quality Bluetooth headphones are still expensive, all Bluetooth headphones need to be charged, and they require a trip to the Settings app to pair them—and sometimes to re-pair them when they drop the connection with no warning.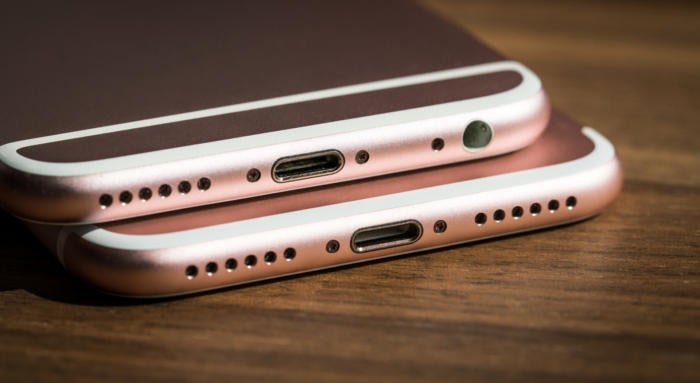 Now you see it, now you don't. The iPhone 6s has a headphone jack. The iPhone 7 does not.
Apple claims it's solved these problems with the AirPods, but those aren't available yet. Thanks to a W1 chip, Apple's AirPods, and Beats' Solo3, Powerbeats3, and BeatsX should pair more seamlessly and use less power, but only the Solo3 were available at launch. (AirPods are expected in late October, and the Beats just in "fall.") If you already have Bluetooth headphones you like, this isn't a problem. But if you don't, you'll find yourself in limbo with me, having to choose between what's out now from Jaybird or Bose, settling for last year's Beats, or waiting for Apple's AirPods or the new Beats to show up in stores.
I wouldn't call this Lightning to 3.5mm adapter an elegant solution. But it works and it's relatively cheap.
Until then, Apple does provide two wired solutions in the box. I've been mostly using the Lightning EarPods, which fit and sound exactly like the old EarPods, but have a Lightning plug on the end instead of a 3.5mm plug. As Jason Snell pointed out, if most people use whatever headphones came in the box, having these in the box just might be good enough. I don't love the EarPods, but it turns out I don't hate them as much as I remembered.
As a bonus, you also get a Lightning-to–3.5mm adapter, to plug in whatever analog headphones you already have. (Spare adapters are $9 at the Apple Store.) The adapter is fine, although it's a little awkward if your headphones have a 90-degree plug instead of a straight one. We'll perform some tests a little later to see if there's much difference in sound quality between using the adapter (which must have a DAC built in) with the iPhone 7, versus plugging the same headphones directly into an iPhone 6s.
Previous Page 1 2 3 4 5 6 Next Page