iPhone 7 review: Its speed and camera are crazy-good, but it still drives me crazy
I miss the headphone jack, OK?
Every year, Apple releases the best iPhone ever, but the iPhone 7 feels different somehow. All of its major details leaked ahead of time, not to mention a good handful of rumors about next fall's iPhone, which could be a major redesign with an OLED screen and no Home button. For now, the iPhone 7 makes minor changes to the phone's form and bigger improvements to its function. But it adds a couple new annoyances at the same time, which makes the iPhone 7 feel a bit like a beta version of what's to come.
A10 Fusion
The biggest advancement is under the hood. At the September event, Apple explained that the A10 Fusion chip powering the iPhone 7 has four cores: two high-performance cores for the most intense tasks, and two low-energy cores to handle easier jobs while saving power. All I noticed when testing the iPhone 7—we bought a 128GB rose gold model on launch day—was speed.
Apps launch quickly, updates install quickly, and the camera is ready to shoot seemingly the very instant I swipe to it from the lock screen. I didn't notice any different in performance in a resource-hungry app like Pixelmator as in a lighter app like Mail. Everything is just faster. Geekbench scores are 3440 for the single-core CPU test, and 5273 for the multi-core. That's nuts—my iPhone 6s scored 1437 and 2411, respectively, on the same tests, while my 2013 MacBook Air (1.7GHz Intel Core i7, 8GB of RAM) scored 2935 and 6200.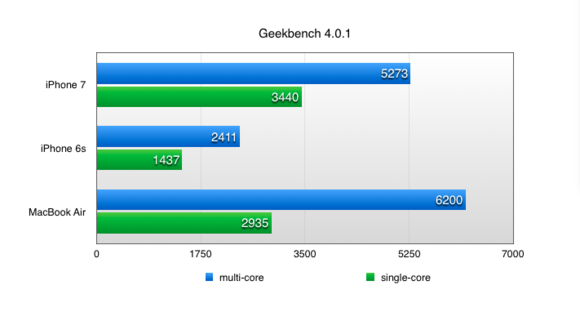 The new iPhone 7 benchmarked more like my 2013 MacBook Air than my iPhone 6s.
However, despite the A10's power management features, I didn't notice dramatic battery life savings. My iPhone 7 still gives me warnings in the early evening (usually between 5 and 8pm) that I'm down to 20 percent power, and even if I go into Low Power Mode at that point, I usually need to top off a little bit to make it to bedtime. I'm a pretty heavy user, so your mileage may vary, but I doubt your charging habits will change much.
Better screen, storage, and speakers
The screen is also improved. It's brighter, which makes it easier to read in bright sunlight. Where my iPhone SE is almost unreadable while standing in line at a food truck in the harsh midday glare, the iPhone 7 is legible enough that I can read an article in Instapaper or play another level of Two Dots. The screen also supports a wider color gamut, which makes photos and videos really pop with vibrant, saturated color—Dr. Raymond Soneira of DisplayMate recently proclaimed it "virtually indistinguishable from perfect." It's one of those things you kind of need to see in person to appreciate, though, with an older iPhone on hand to compare side-by-side.