iPhone 7 Plus review: The dual-lens camera makes it a winner
Previously, a Plus-sized iPhone meant a bigger screen and that was about it. With the iPhone 7 Plus, the dual-lens camera is a major selling point.
The little things
Using the iPhone 7 Plus is a series of small delights. For example, while 3D Touch on the iPhone 6s felt more like a showoff trick than a useful feature, with iOS 10, it finally makes sense. Besides the camera, this is what people ask me to show them on the iPhone 7 Plus—being able to not just peek at emails and messages from your Notification Center, but actually archive an email or reply to a message change, is a time saver, it's true. But it's also a much more natural gesture-based way to navigate the iPhone 7 Plus's big screen with one hand.
Apple's glossy new jet black color is really nice, and feels a little grippier in my hand than the aluminum-backed models (rose gold, gold, silver, and matte black). It actually reminds me of my old unapologetically plastic pal the iPhone 5c, and I mean that as a compliment. After a couple weeks of use, I am seeing some very tiny scratches in the finish, mostly near the bottom corners, but I think Apple is being fair to call them "micro-abrasions" because I have to squint at the phone from an inch away to see them.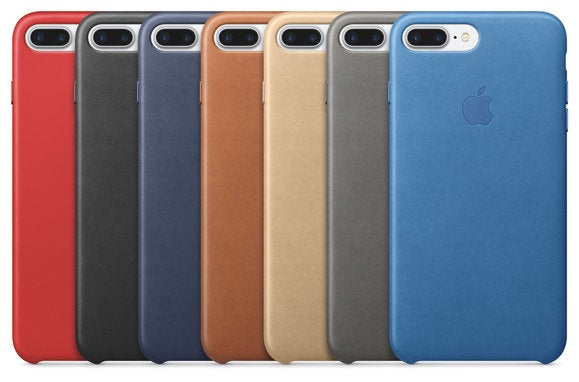 If you can bear to cover the iPhone 7 Plus, Apple's US$49 Leather Case is appropriately luxe.
The jet black iPhone looks particularly great without a case, but it does pick up fingerprints and smudges quite easily. (I never kept my trusty Toddy cloth quite so close at hand—it's brilliant at wiping away oil smudges rather than just smearing them around.) Apple sent over its $49 iPhone 7 Plus Leather Case, which has a very high-end feel. It has metal buttons for the volume and wake controls, which feel satisfyingly clicky to press while still blending into the case perfectly.
Bottom line
The iPhone 7 Plus has such a great camera that it's easy to recommend it over the iPhone 7, and the extra dash of battery life is nice to have too. While it isn't without its drawbacks, it's got power, speed, and a shiny new coat. It's a little mean that Apple doesn't offer the jet black color at the lowest capacity (32GB) and price, but any of the iPhone 7 Plus models should make you a happy Apple fan.
Previous Page 1 2 3 4