Internet of Things brings new era of weather forecasting
Sensor technology may help you stay out of harm's way.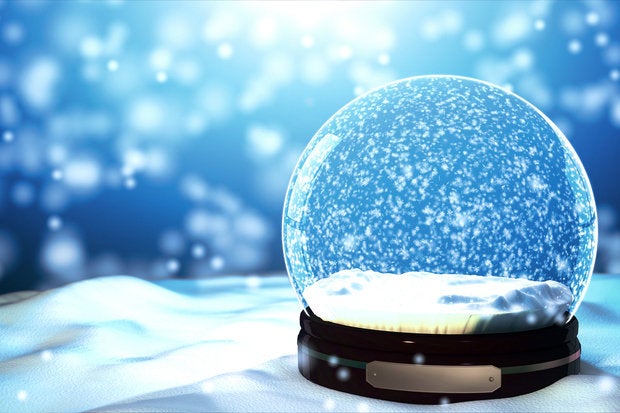 You are driving down the road and your smartphone or vehicle alert system announces that black ice is 1.5 miles ahead. As you move closer there's a countdown: 500 feet, 300 feet, and now urgently: Warning, Warning -- 100 feet to black ice.
How can you know the location of black ice so precisely?
Weather systems will collect data from other vehicles on that same road. The vehicles will wirelessly transmit road condition and weather data. Vehicles' data points will include barometric pressure, air temperature, windshield wiper settings, and vehicle stability control, or the amount of differential rotation between wheels indicating slippery conditions. There will be data about the amount of sun and headlight status, among other metrics.
All this data will be collected by the sensors that underpin the Internet of Things: Temperature, pressure, moisture and light sensors as well as motion sensors such as accelerometers and gyroscopes. Many of these sensors are already in your cellphones, and will soon to be just about everywhere. This means weather measurements will also be everywhere, and this will improve the precision of weather condition reports and forecasting.
Before this sensor and wireless technology arrived, weather data primarily came from airport weather stations and ships at sea. Weather observers recorded conditions such as wind direction and speed, temperature, pressure and pressure trends, dew point and sky cover. Professionals plotted this data and then transmitted it for forecast analysis. In total, forecasters had hundreds of weather plots to work with, or if global forecasts were needed, thousands. The potential number of weather data points today, thanks to sensors, will be in the billions.
More data is giving rise to precision forecasting, which will not only be important to drivers, but to government as well, along with many industries, especially agriculture.
Two years ago, Schneider Electric began selling remote monitoring stations aimed at agriculture that measure atmospheric and ground conditions such as soil moisture. There are now 4,000 of these systems deployed.
That data, when combined with government and private sources of weather data, is used to help develop forecasts that update every hour and help farmers "make a better tactical decision" about when to apply pesticides, water and fertilizer, said Ron Sznaider, senior vice president of Schneider's cloud service.
The idea "is to mitigate the risk of weather," said Sznaider.
Weather systems in agriculture help farmers identify variations on their acreage that can change by elevation, hill or valley, or proximity to a water source. "That's important to identifying micro-climates on farms," said William Mahoney, deputy director of the applications research laboratory at the National Center for Atmospheric Research. By optimizing watering, for instance, farms may be able to save money in the long run, he said.