Intel reinvents desktop PC with new Core chips, portable all-in-one
Intel unveiled four new desktop chips and some new desktop concepts, plus a sneak peek of its Broadwell fifth-generation Core architecture.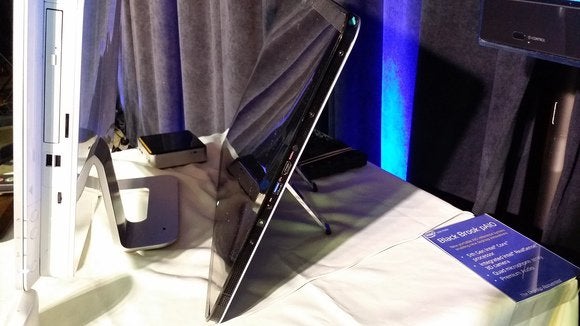 Chips designed for graphics, gaming, and diminutive desktops that practically disappear: Intel vice president Lisa Graff announced all that and more at a press event Wednesday night in San Francisco. The new chips include an "unlocked" fourth-generation Core processor, code-named Devil's Canyon; a new Extreme Edition part; and an "anniversary edition" Pentium processor. Graff also showed off Intel's next generation of the Core architecture, code-named Broadwell.
Intel is continuing to invest in new form factors, said Graff, including Black Brook, a portable all-in-one PC that will use the upcoming, next-generation Broadwell processor.
As computing's focus has shifted from the desktop to the laptop and on to smartphones, tablets, and now wearable devices, Intel's Graff has made it clear the desktop isn't going away. However, Intel is rethinking the desktop to make it portable, either through new iterations of its Next Unit of Computing (the NUC) or portable AIOs like Black Brook. And while it hasn't forgotten about the legions of PC gamers that have driven its enthusiast chips, Intel is also trying to shoehorn performance into cheaper alternatives. Intel, Graff said, wants to "reinvent" the desktop PC.
The idea is that eventually the desktop "will get so small that it disappears," Graff said. "We're reinventing the home theater PC, it tucks behind your TV... you just won't see it anymore," she said.
Blackbrook, by contrast, is essentially a large all-in-one PC, but it can be taken back and forth from room to room. That PC will include a handle, Graff said. Intel showed off Black Brook at the press conference (top).
A new Core lineup
Likewise, Intel's new lineup of Core chips have bifurcated, pushing ahead with a new Extreme Edition chip for gamers, but also beefing up the capabilities of its low and mid-range chips. All three of the new chips Graff announced are unlocked, meaning Intel will allow buyers of the chips to dial up their clock frequency to gain extra performance, provided that the processors themselves are adequately cooled.
At the low end, Intel plans to announce an "Anniversary Edition" Pentium chip, an unlocked Haswell processor that celebrates the twenty-first anniversary of the Pentium, launched on Mar. 22, 1993. Although the chip became famous for a floating-point error that forced a widespread recall, the Pentium also put Intel on the map with the American consumer, together with the five-tone jingle that accompanied its "Intel Inside" slogan. It will launch in mid-2014, Graff said.
Intel will also unveil an improved fourth-generation Haswell Core processor, with an improved thermal interface and packaging. The Devil's Canyon chip will be launched in mid-2014, Graff said.