Intel lets slip roadmap for Optane SSDs with 1,000X performance
The Optane line of SSDs, also known as 3D XPoint, will debut under the Mansion Beach platform.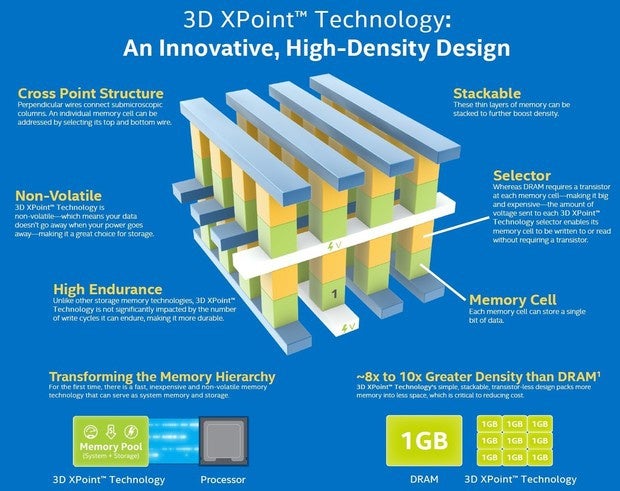 Credit: Intel (Click for larger image).
By comparison, today's NAND flash lasts for 3,000 to 10,000 erase-write cycles. With wear-leveling and error correction software, those cycles can be improved but still don't get anywhere near 100,000 cycles.
So pumped are the companies about 3D XPoint that they're claiming it's the first new memory category in more than 25 years. According to research analysts, Intel and Micron are not exaggerating. 3D XPoint will reside between DRAM and NAND flash, able to replace both in some instances in enterprise data centers and, eventually, consumer desktops and laptops.
In previous announcements, Intel was clear that it planned on shipping Optane products this year. The documents obtained by benchlife.info again show they will be out by the end of 2016.

3D XPoint technology is a new class of non-volatile memory invented by Intel and Micron that relies on resistance change of the bulk material to achieve non-volatility. 3D XPoint technology uses the bulk material to switch resistance state and does not rely on statistically variable filaments, enabling it to reach manufacturing. The combination of architecture and unique materials in both the memory cell and selector enable 3D XPoint to achieve higher density, and better performance and endurance. Credit: Intel
At its Intel Developers Forum in Shenzhen, China, the company said Optane has up to 10X the density of NAND flash and will enable SSDs to store more than a terabyte of data in an M.2 card that is only 1.5 millimeters thick.
"This will be great for notebook products," Intel Senior Vice President Rob Cooke said during a presentation at the conference.