Intel lets slip roadmap for Optane SSDs with 1,000X performance
The Optane line of SSDs, also known as 3D XPoint, will debut under the Mansion Beach platform.
Intel has let slip its timeline for releasing what is arguably the most significant advancement in non-volatile data storage in years, its 3D XPoint (cross point) memory, which will be sold under the name Optane.
Taiwanese technology news site benchlife.info posted slides from a presentation showing that the line will be released by the end of this year and likely alongside its Kaby Lake processor platform.
Optane will likely debut several SSD lines, beginning with the Mansion Beach product by the end of 2016, which will be followed by Brighton Beach and Stony Beach, according to an Intel slide presentation.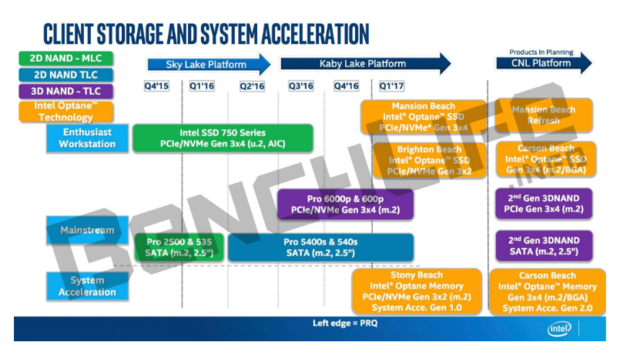 Intel let slip a slide showing the timeline for its upcoming Optane (3D XPoint) line of non-volatile memory products. Credit: Intel/benchlife.info (Click for larger image).
The Mansion Beach SSD line will use the NVMe PCIe Gen 3 x4 configuration (with 4 I/O lanes), which will allow it to be placed directly on a system's motherboard.
Around the same time as Mansion Beach, Stony Beach will debut as an enterprise-class PCIe/NVMe SSD, which will be marketed as a server accelerator technology.
Brighten Beach will be released sometime in the first quarter of 2017 and will represent a lower-end product line using a PCIe 3.0 x2 (two I/O lanes) configuration.
After Brighten Beach, Carson Beach will introduce a PCI 3.0 x4 with the M.2 card, as well as ball grid array (BGA) that will solder directly onto a computer's motherboard and act as a second generation of Intel's "system accelerator."
Intel also plans a Mansion Beach refresh, as well as second generations of its PCIe and SATA 3D NAND flash products, sometime in 2017.
Intel and Micron announced the Optane memory almost a year ago, calling it 3D XPoint, within the four walls of the companies.
While Intel and Micron heralded 3D XPoint RAM as "the first new class of memory since 1989," referring to floating gate NAND, most experts believe it is a resistive RAM (ReRAM) memory based on a 128Gbit chip.
The companies claimed it was a new type of memory that is up to 1,000 times faster than NAND flash and has 1,000 times the endurance. One thousand times the endurance would be about 1 million erase-write cycles, meaning the new memory would essentially last forever.
Optane technology is primarily a mass storage-class memory that, while slower, is still cheaper to produce than DRAM and faster than NAND. Significantly, it's non-volatile, so when the power goes off, the data remains intact, just as it does with NAND flash.