Insteon Connected Kit review: Strong lighting controls; weak app integration
Insteon's Connected Kit is a very inexpensive, but its weak camera and clumsy installation procedures (in some areas, but not others) drag down our opinion of the system as a whole.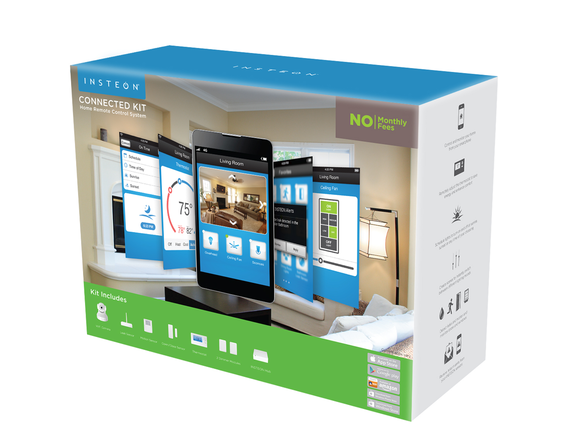 For simple, yet flexible home lighting control, Insteon's dual-band technology is hard to beat. The company has been in the market longer than just about anyone else (more than 20 years), it has 200 connected-home products in its inventory, it offers great tech support, and it even operates its own online store dedicated to the connected home.
As great as all that is, Insteon still has a ways to go when it comes to effectively integrating its disparate collection of devices with the smartphone app and the web portal that are designed to manage it all. That's the conclusion I reached after reviewing Insteon's 2582-242 Connected Kit plus a couple of connected LED light bulbs that the company recently submitted for review.
The Connected Kit consists of Insteon's latest hub, which you hard-wire to your home router/Internet gateway; a standard-definition pan/tilt security camera; motion, door/window, and leak sensors; and a wired thermostat. Insteon also sent a pair of 60-watt-equivalent LED light bulbs (these arevery expensive at $30 each--that's twice the cost of the GE and Cree bulbs recently reviewed).
I wasn't able to test the thermostat, but it represents another weak spot in the Insteon ecosystem. On the one hand, it supports advanced features such as support for two-stage heating and cooling systems, duct dampers, and remote sensors. On the other hand, it's aesthetically ugly compared to just about any modern thermostat on the market, it lacks a touchscreen user interface, and it doesn't support heat pumps or three-stage HVAC systems. Fortunately, you're not limited to Insteon's thermostat. The company just announced that it has joined the Works with Nest program.
I installed everything besides the thermostat and the IP camera in less than two hours. That includes the time it took to download and install the control app on my iPhone (there are Android and Windows Phone versions available, too) and to program rooms (groups of devices) and scenes (rules for controlling those devices). So far, so good.
My living room is lit by an overhead light and several lamps. I replaced one light bulb with a dimmable Insteon 60-watt-equivalent LED bulb and plugged two other lamps into plug-in dimmer modules (these cost $50 each if you need more than the two that come in the kit). Insteon also offers in-wall dimmers and switches (priced from $50 to $80, depending on their capabilities).
Using the Insteon app, I grouped these devices into a room and created a scene that turned all the lamps on at sunset and off at 10pm. Sunset and sunrise are determined by the Internet-connected hub based your time zone and the current date. You can specify the level of dimming for each device, with ramp-up times as long as eight minutes.