Inside Verizon's Super Bowl Control Center
Engineers monitor realtime feeds from cell sites so fans can tweet, post and stream during the big game.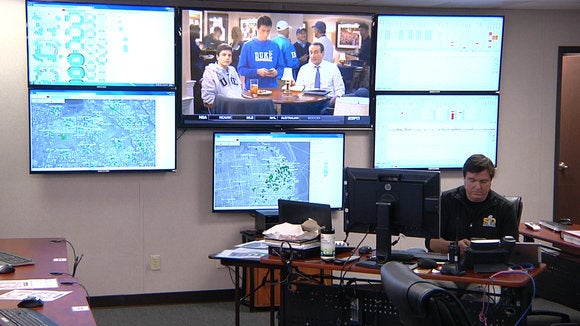 Verizon's control center for its Super Bowl 50 network in Santa Clara, California, on Jan. 27, 2016. Credit: Martyn Williams
With banks of big-screens high along three walls and a huge TV on the fourth, it could be a great spot to watch The Super Bowl. But when the Denver Broncos take on the Carolina Panthers on Feb. 7, the people in this room won't be concerned with touchdowns, running yards and time outs. They'll be analyzing gigabits, latency and capacity to make sure Verizon's cellular network holds up for fans.
This is Verizon's Super Bowl command room -- a temporary, purpose-built nerve center in the shadow of Levi's Stadium that pulls in data from permanent and temporary base stations near the site of Super Bowl 50 and the fan area in downtown San Francisco.
Organizers predict up to a million people will visit the Bay Area for The Super Bowl, so Verizon has added 46 small cells and 10 macro cells to augment its network.
The sites are in areas where it anticipates a high additional number of users -- for example, the many who will want to snap and share a selfie at the Moscone Center with the Vince Lombardi Trophy and the downtown area where a series of free concerts are being held.
From the control center, around 100 engineers will oversee the network through realtime feeds that indicate the number of phones connected and the total amount of data being used. If a cell site is getting overloaded, its power level can be remotely adjusted so that phones on the edge of its coverage area are prompted to switch to other base stations.
Verizon's planning for Super Bowl 50 began two years ago and each Levi's Stadium home game this season has served as a dry-run for the engineers and network.
"We make sure we do a lot of drilling for disaster recovery," said Phillip French, executive director of networks for Verizon's Western Territory. "For example, how would we prepare for a massive power outage, how would we respond, how would we systematically go through and make sure we are doing the right things to prepare the network."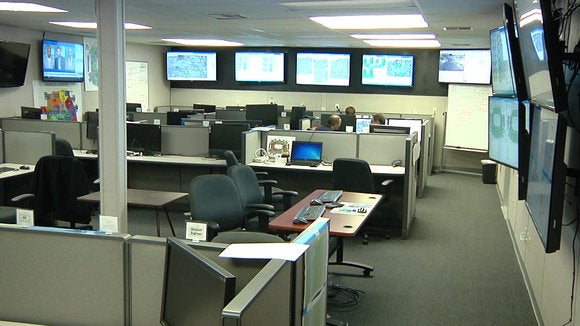 Verizon's control center for its Super Bowl 50 network in Santa Clara, California, on Jan. 27, 2016. Credit: Martyn Williams
Some of the staff will be from Verizon partners, such as infrastructure provider Ericsson, and there will also be staff from Houston -- the scene of next year's Super Bowl 51 -- to watch how it's all done.