India's Supreme Court hears challenge to biometric authentication system
Two lawsuits question the requirement for a biometric id for people to file tax returns.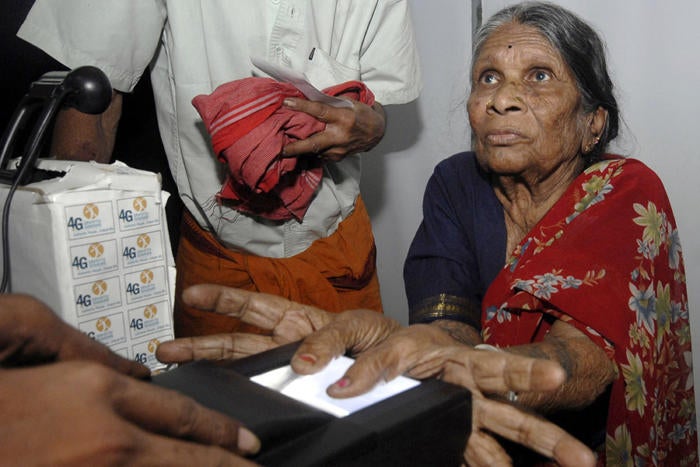 Credit: REUTERS/Krishnendu Halder
Two lawsuits being heard this week before India's Supreme Court question a requirement imposed by the government that individuals should quote a biometrics-based authentication number when filing their tax returns.
Civil rights groups have opposed the Aadhaar biometric system, which is based on centralized records of all ten fingerprints and iris scans, as their extensive use allegedly encroach on the privacy rights of Indians. "Aadhaar is surveillance technology masquerading as secure authentication technology," said Sunil Abraham, executive director of Bangalore-based research organization, the Centre for Internet and Society.
The Indian government has in the meantime extended the use of Aadhaar, originally meant to identify beneficiaries of state schemes for the poor, to other areas such as filing of taxes, distribution of meals to school children and payment systems.
Hearings on the writ petitions, challenging the amendment to the Income Tax Act, are going on in Delhi before a Supreme Court bench consisting of Justices A.K. Sikri and Ashok Bhushan.
Tax payers are required to have the Aadhaar number in addition to their permanent account number (PAN), which they have previously used to file their tax returns. Their failure to produce the Aadhaar number would lead to invalidation of the PAN number, affecting people who are already required to quote this number for other transactions such as buying cars or opening bank accounts.
The stakes in this dispute are high. The petitioners have argued for Aadhaar being voluntary and question the manner in which the new amendment to the tax law has been introduced. The government has said both in court and in other public forums that it needs a reliable and mandatory biometric system to get around the issue of fake PAN numbers.
The lawyer for one of the plaintiffs, Shyam Divan, has argued for the individual's absolute ownership of her body, citing Article 21 of the Indian Constitution, which protects a person from being "deprived of his life or personal liberty except according to procedure established by law." The government has countered by saying that citizens do not have absolute rights over their bodies, citing the law against an individual committing suicide as an example.
The Supreme Court in another lawsuit looking into privacy issues and the constitutionality of the Aadhaar scheme had ruled in an interim order in 2015 that the biometric program had to be voluntary and could not be used to deprive the poor of benefits.
"The production of an Aadhaar card will not be condition for obtaining any benefits otherwise due to a citizen," the top court ruled.
The government holds that the Aadhaar Act, passed in Parliament last year, provides the legal backing for making the biometric identification compulsory.