In praise of Apple's horrible mice
Apple hasn't introduced a new mouse since the Magic Mouse, which came out in 2009; it was followed by the Magic Trackpad in 2010. This could indicate that the company considers these two devices to definitively encompass its current industrial design language of glass and metal.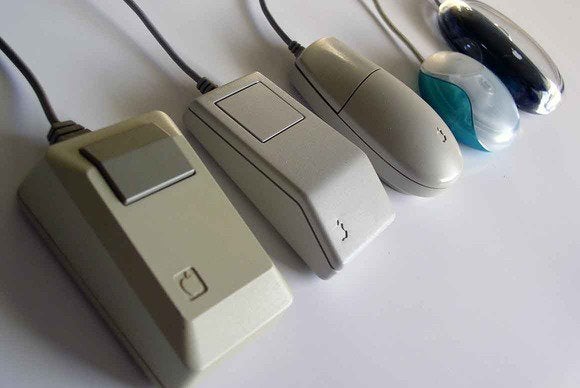 Over the last twenty years, Apple's hardware has steadily conquered every aspect of my computing life. As I type this, my laptop, keyboard, monitor, phone, and tablet all sport the company's iconic logo—a reminder of how successful the folks from Cupertino are at designing electronics that I, and many others, want to use.
The one notable exception to this rule is the humble mouse, a device that the company has almost pathologically attempted to reinvent time and time again since it first introduced one with the Lisa back 1983—in the process creating an almost perfect metaphor for why the tech giant is so successful at design.
One man, one love, one button
Apple's fixation with mouse buttons is legendary. While PC manufacturers gave adding more buttons little thought and, indeed, believed that doing so would increase the user's productivity, Steve Jobs waged an endless war against the additional complexity that he believed came with having more than one button.
It's easy to make fun of what looks like a needless obsession for such a small detail, but that's exactly what sets Apple apart from many of its competitors. And, despite the fact that multi-button mice have become the norm, Jobs's decision to squeeze every last drop of functionality from a single switch has paid off in many ways. For one thing, all of Apple's current pointing devices don't have any visible buttons and offer a huge amount of finger-tapping real estate ... a design characteristic that has now been copied by many of the company's competitors.
But that's not all; Cupertino's love affair with the button has also found its way onto the company's mobile devices, where the Home button wears many different hats—and ultimately acts as a visual and tactile anchor that users can unambiguously detect and use without having to look at their devices.
Rock, paper, scissors, plastic, glass, metal—and lasers
Like many of the company's other products, Apple's mouse has gone through a vast gamut of fabrication techniques over the years, from the industrial-strength plastic of the original model to the translucent candy of the 1990s to the current Magic Mouse, which is a beautiful combination of glass and metal.
While the rest of industry settled on plastic from the very beginning, Cupertino has methodically explored material after material in the quest for a pointing device that could fit perfectly within its lines of computer hardware, and has continued to adopt new technologies, like laser tracking and capacitive glass, that have greatly changed the way we interact with our mice.
To be sure, there have been a few misses here and there; for example, the Mighty Mouse, while gorgeous, was so heavy that its insides may well have composed of plutonium, and the Magic Trackpad (which I continue to misspell as Tragic Macpad), is proof that what works on a laptop doesn't necessarily work on your desktop.