iMac with 4K Retina display review: A high-resolution desktop Mac for the masses
The transition of the iMac into the Retina display era is now complete—and worth upgrading to.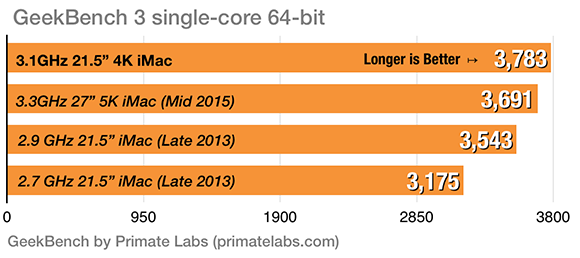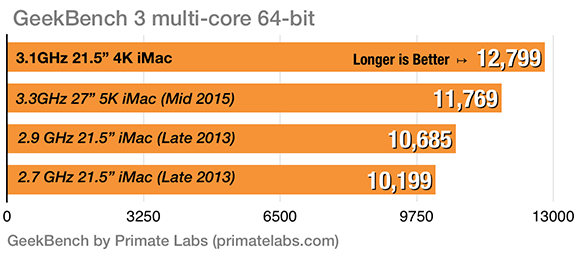 Still, Broadwell's an upgrade from the previous-generation Haswell processors used in prior 21.5-inch iMacs. Despite the quadrupling of pixels that comes with a Retina display, the 4K iMac was still able to outpace its predecessors at most OpenGL rendering tests. In CPU tests, it even outpaced the mid-2015 revision of the 27-inch 5K iMac. However, this iMac's Intel Iris Pro 6200 integrated graphics are no match for the discrete GPUs in the 27-inch 5K iMac models from last year, let alone this. (Apple is offering a GeForce GT750M GPU as a build-to-order option on the 4K iMac if you really do need more graphics horsepower.)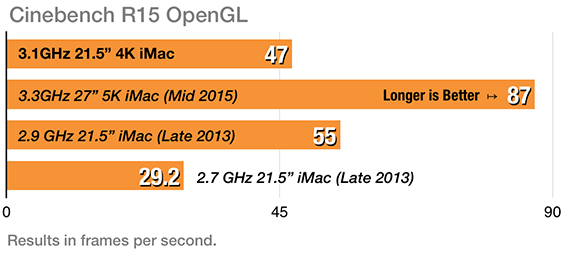 Storage, good and bad
The base storage configuration of the 4K iMac is a 1TB, 5400rpm hard drive. It's been a few years since I regularly used a Mac with a spinning disk as its primary hard drive, and man, did it feel slow. Starting up was slow. Launching apps was slow. Everything... just... took... longer. It's disconcerting to take a brand-new, top-of-its-line Mac out of the box and be disappointed by how sluggish it feels, but that's what I experienced, and it's pretty much down to that slow hard drive.
Yes, Apple has packed an impressive amount of technology into this $1499 iMac, but it seems almost unforgivable that a Retina iMac could be saddled with a slow spinning hard drive. You can pay a bit extra to equip a Fusion Drive, which combines the capacity of a spinning disc with a small amount of speedy flash storage, and I'd recommend that. (In fact, Apple has made it more affordable than ever to opt for a Fusion Drive configuration by reducing the amount of flash storage in the 1TB configuration from 128GB to 24GB. If you regularly use large media files, you'll want to opt for the larger Fusion Drive or pure flash storage, but the cheaper configuration is a great option for users who don't stress out their Macs quite as much.)
Speaking of flash storage, the 4K iMac (and all of its fellow late-2015 iMacs) benefits from the same storage speed boost that we saw earlier this year on the MacBook Pro: These models can take advantage of upgraded storage controllers and 4 lanes of PCI to achieve flash-storage transfer speeds up to 2.5 times those of previous models. All the more reason to jump off the spinning-hard-drive train before it crashes and switch to a Fusion Drive or pure flash storage.
Previous Page 1 2 3 4 Next Page