HP Elite x3 review: This could be the last great Windows phone
For now, the Elite x3 stands alone as the embodiment of Microsoft's PC-as-phone vision.
The Elite x3 looped a 4K test video repeatedly for an incredible 9 hours and 23 minutes, compared to just under 6 hours for the Acer Liquid Jade Primo. It's clear that this is an all-day phone, and more.
I also spent some time with the Elite x3's camera, which, like Acer's Liquid Jade Primo, is one area where HP seemed to cut corners. If you were hoping that the Elite x3's 16MP rear and 8MP front-facing cameras would emulate an iPhone, say, with a pair of dual lenses, you'll be disappointed. C'mon HP, what's an extra few bucks for a great camera?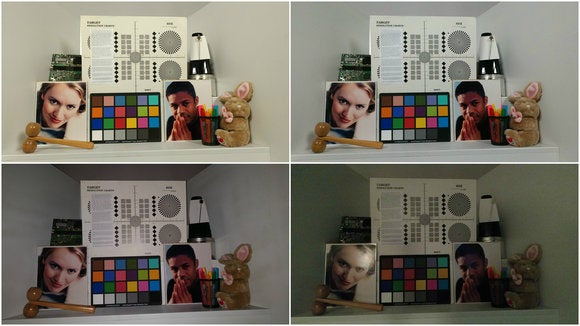 From top left, clockwise: studio lights, at full brightness; half brightness; lamplight, and lamplight with flash. Our studio has a white background.
The test photos revealed a substantial flaw that had nothing to do with image quality: the time from which the camera icon was pressed to the time the picture was taken measured about a second. It hearkens back to the bad old days of Windows phones, where excellent color reproduction was marred by slow shot times. Optical image stabilization wasn't included, either. In my mind, the Elite x3's camera ranks above the Liquid Jade Primo's but below the Lumia 950's.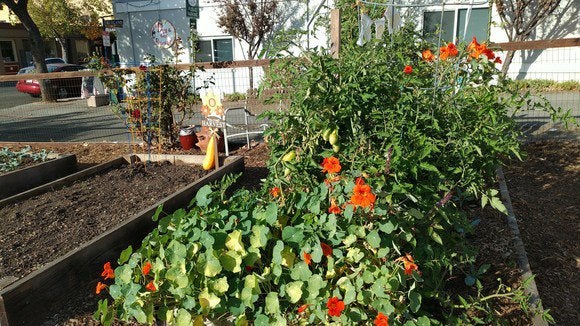 An outdoor shot taken by the Elite x3 on a late afternoon in October.
A marvelous Continuum experience
If the Elite x3 were an iPhone or an Android phone, we'd essentially end the review right there. The true advantage of Windows phones, however, is the Continuum experience, which allows a docked Windows phone to serve as a slightly degraded version of a desktop PC. HP over-engineered the Continuum experience with the same attention to detail as its other aspects, and on the Elite x3 it shines brightly.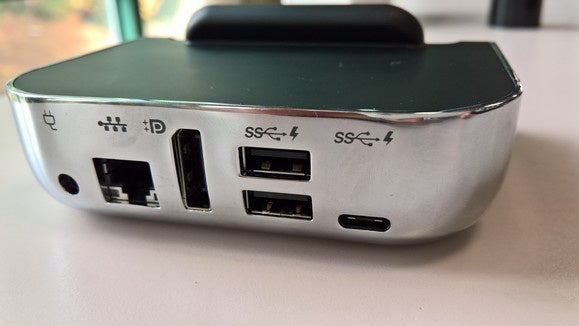 HP's Desk Dock, which includes the full complement of ports.
Let's begin with the wedgelike Dock, a scant pound's worth of plastic and aluminum which could literally stand in as a weapon in a game of Clue. With two USB 3.0 ports as well as a USB-C port (which can be used for charging), the Elite x3 dock means business. In fact, the dock's commitment to productivity extends to the display connector—a full-sized DisplayPort connector, rather than the more common HDMI.
I criticized Acer's Liquid Jade Primo because if you used its bundled case, the phone wouldn't fit into the dock. HP's thought of that—oh boy, has it ever. HP's Elite x3 includes three sleeves that magnetically slide over and on top of the dock: one designed to fit the bare phone, one designed to dock the phone within HP's billfold case, and a third that adds an extension cord so you can hold it in your hand while still using the phone's touchpad to navigate.
Previous Page 1 2 3 4 5 6 Next Page