HP Elite x3 review: This could be the last great Windows phone
For now, the Elite x3 stands alone as the embodiment of Microsoft's PC-as-phone vision.
The Elite x3 is also the only Windows phone with 4GB of RAM as well as 64GB of internal storage. The Lumia 950XL and Liquid Jade Primo both include 3GB of RAM and 32GB of internal storage.
An SD card slot allows up to a theoretical 2TB of expansion, though that slot is shared with a second SIM. Other noteworthy features include 2x2 802.11ac Wi-Fi for better wireless reception, plus Bluetooth 4.0LE and Miracast. The phone also offers NFC, making the Elite x3 theoretically compatible with Microsoft's tap-to-pay Wallet app -- though HP told us that that feature hasn't been enabled. There's a 3.5-mm audio jack, too.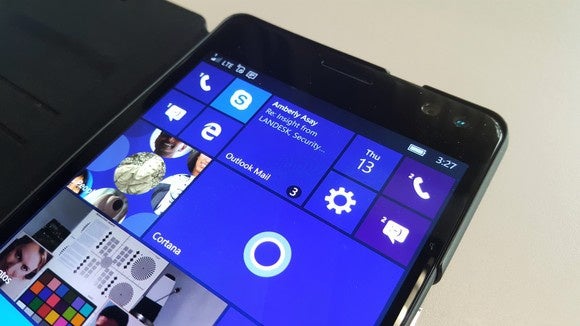 We reviewed a dual-SIM model of the Elite x3. One of those SIMs can be used to hold an SD card, with capacity up to a terabyte.
You may recall that I'm a huge fan of Windows Hello, the quick and easy way Windows recognizes you and logs you in. The Elite x3 does something few, if any, other phones do: it lets you log in via Hello with two biometric authenticators—an iris scanner and fingerprint reader. Both are competent, if not entirely predictable. Waking up the phone involved holding it with my finger over the reader, hoping that either it or the iris scanner logged me in—and they almost always did.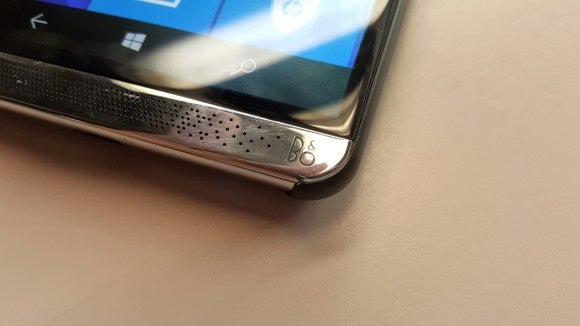 The Elite x3 includes front-firing speakers from Bang & Olufsen, though I didn't hear much difference from the flat sound other smartphone speakers generate.
Benchmarks reveal the Elite x3's power
The Elite x3's performance lives up to its name. Benchmarked against the Lumia 950 and the Liquid Jade Primo (unfortunately we didn't have a Lumia 950XL to test), the Elite x3 proved it's the most powerful Windows phone on the market today. Pay attention to tests like JetStream 1.1, a browser-based artificial benchmark, where the Elite x3 is 70 percent faster. It's even consistently faster than the Samsung Galaxy Note 5, an Android phone. (Also take a sneak peek here at how apps run under the Workspace environment, which we'll discuss later.)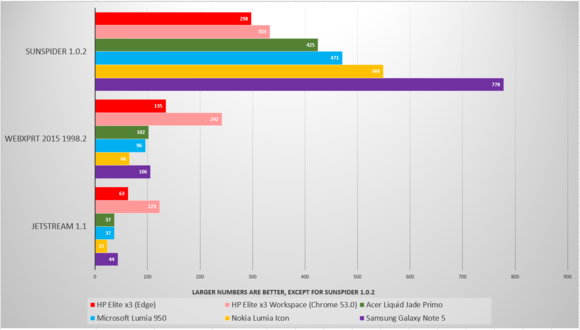 HP's Elite x3 sets a new benchmark for performance among Windows phones.
We've also broken out the AnTuTu benchmark on the three Windows 10 phones to offer a more direct comparison.

The Elite x3 enjoys a sizable lead over its competition.
Battery life is another major plus for the Elite x3. Inside the phone is a massive (though, sadly, unremoveable) 4,150 mAh battery, with far more capacity than either the Galaxy 6s Edge (3,600 mAh), iPhone 7 Plus (2,900 mAh) Lumia 950XL (3,340 mAh) or Acer Liquid Jade Primo (2,870 mAh). In just 10 minutes, the Elite x3's quick-charge technology will fill the battery by 14 percent, good enough for a 2.5-hour call.
Previous Page 1 2 3 4 5 6 Next Page