HP Elite x3 review: This could be the last great Windows phone
For now, the Elite x3 stands alone as the embodiment of Microsoft's PC-as-phone vision.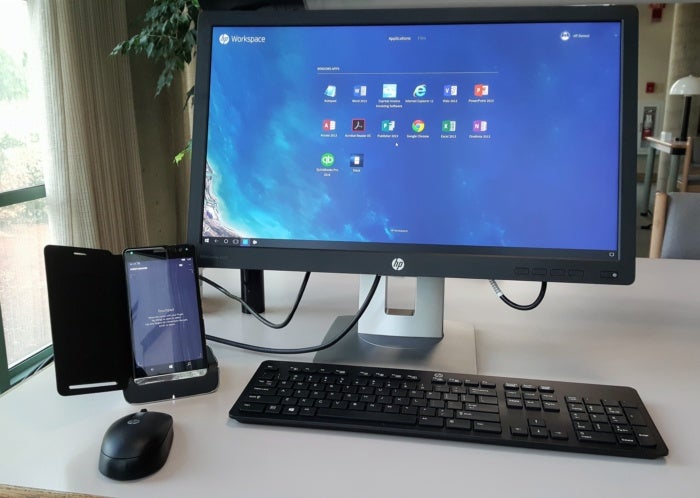 HP's Elite x3 smartphone has achieved at least one thing: It has triumphantly realized Microsoft's dream of phones that could eventually replace your PC.
Microsoft's vision was meaningless unless those phones could support the PC's legacy apps. Microsoft's Continuum feature already allows you to connect a mouse and keyboard, giving the phone the look and feel of a desktop PC. HP designed the Elite x3 to evolve that concept. Pick any Win32 app you'd like—Photoshop, AutoCAD, even Chrome—and HP's new Workspace feature will allow it to be run via your phone. Combine that with stellar battery life, truly useful utilities, and an (almost) elite set of hardware specs, and you indeed have a PC in your pocket.
It's a pity, then, that all this comes at a very elite, PC-like price. These costs relegate the Elite x3 to corporate use, where an IT department foots the bill.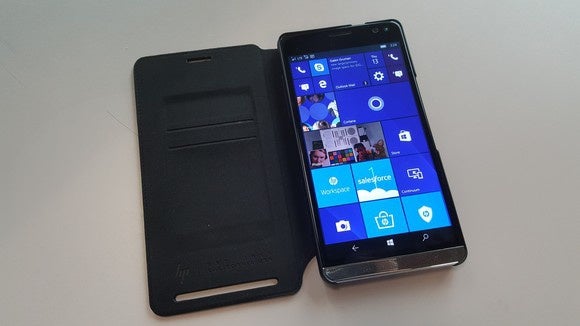 HP's Elite x3, within its billfold case.
The Elite x3: A pricey phablet
Let's begin our tour of the Elite x3's formidable specs with perhaps the largest number of all: its price. I've always been a fan of large phones like the Nokia Lumia 1520 and the Samsung Galaxy Note series, but the Elite x3 pushes the limits of the "phablet" designation.
The phone's $699 price is well north of affordable—recall that we dinged the competing Acer Liquid Jade Primo for its $649 price tag (it's currently $449 in the Microsoft Store). HP's Desk Dock adds Continuum capabilities for another $150. Then there's the upcoming ultrabook-like Lap Dock, which at $500 brings the total bill to $1,299—just for the hardware. Gulp.
The phone itself is enormous as well: 6.3 x 3.29 x 0.3 inches, weighing a sturdy 6.9 ounces. Though the Elite x3 is slightly narrower and shorter than Nokia's massive Lumia 1520, both phones are just too large for me to use with one hand. The Elite x3's certainly larger than Microsoft's own flagship Lumia 950XL as well as the Acer Liquid Jade Primo.
The Elite x3's 5.96-inch, 2,560x1,440 AMOLED display has the same specs as the Lumia 950XL's, but it pushes more pixels than the Liquid Jade Primo's 5.5-inch, 1920x1080 display. Fortunately, it's also protected by Corning's Gorilla Glass 4, and unlike any other Windows phone, is both IP67 water-resistant and MIL-STD 810G drop-resistant, too.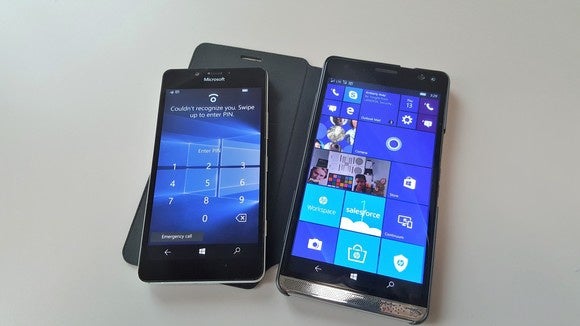 The HP Elite x3 is far larger than Microsoft's Lumia 950, to the left.
If Microsoft had made this phone, it probably would have settled for midrange hardware to keep costs down. HP, though? Hell no. With a 2.15GHz, quad-core, Qualcomm Snapdragon 820 and an integrated Adreno 530 GPU, the Elite x3 opened apps without a hint of lag, and transitioned smoothly from one task to another.