HP begins selling Jet Fusion 3D printer; says it's is 50% cheaper, 10X faster than others
HP's Jet Fusion technology could revolutionize manufacturing by increasing the speed of parts manufacturing
For example, Monino said, healthcare products such as orthotics or medical implants could have embedded wireless RFID chips that provide feedback to physicians or physical therapists on how well the product is performing or even how well a patient is doing.
HP's Jet Fusion 3D printer can embed electronics in parts, so that not only can a part's performance be measured, but the effects of its surroundings can be measured, too.
"Now, imagine the car of the future where every part is transmitting information," Monino said. "And, parts can be visibly or invisibly printed with ink that can only be seen with UV light, so you can print parts that ensure products cannot be counterfeited.
The printer works by first depositing powder (about 100 microns thick, or the thickness of a standard sheet of paper) onto a print bed using a print bar that looks like a scanning bar on a typical 2D printer. The print bar has 30,000 nozzles spraying 350 million fusing agent droplets per second in specific patterns as it moves back and forth across a print platform.
A detailing fusing agent is sprayed around the edges of a printed object, giving it "sharp" details.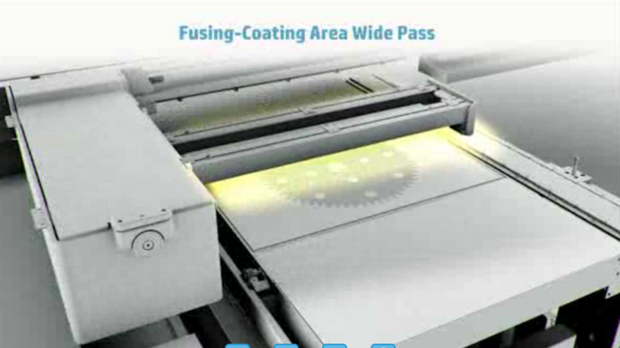 HP
The top of the HP Multi Jet Fusion 3D printer showing a print bar. It looks like a scanning bar on a typical 2D printer. The 3D print bar, however, has 30,000 nozzles spraying 350 million drops per second of thermoplastic or other materials.
HP sells its printing materials in 30 liter boxes or 200 liter barrels. During post processing of printed objects, any unused powder materials is recycling for reuse.

HP
An HP 10-liter material cartridge. HP also sells 200-liter barrels of printing powder.
Source: Infoworld
Previous Page 1 2 3 4 5