HP begins selling Jet Fusion 3D printer; says it's is 50% cheaper, 10X faster than others
HP's Jet Fusion technology could revolutionize manufacturing by increasing the speed of parts manufacturing
Currently, HP's Jet Fusion printers only use nylon, although its technology roadmap includes other plastics, ceramics and possibly metals.
"I believe that HP will disrupt the industry with a new level of speed, quality and cost," said Terry Wohlers, president and lead analyst with market research firm Wohlers Associates. "It's difficult to validate machine and part quality until customers are available. My experience with HP and HP products is that the company does not take it lightly."
Like some other 3D printers, HP's is actually made up of printed parts. For example, of the 135 customer parts that make up a Jet Fusion printer, 66 were 3D printed by HP's own factory machines, according to Monino.
"Therefore, even though the technology is a game-changer, it will only affect a portion of the 3D printing industry, and within this segment, only the middle market of the enterprise space," Kempton said. "This means the kind of customers who will be using it are different from those who would be using, for example, [stereolithography]"
Stereolithography (SLA) is a 3D printing method where photosensitive resin is hardened with either UV or laser light. While various methods of SLA printing can be faster than others, HP's Multi Jet Fusion printing will top any previous production speeds.
"HP is truly offering a revolutionary new type of 3D printing," Kempton said. "There is often a lot of overhype in the 3D printing market over new technologies, most of which fail to live up to these lofty expectations, but HP's Jet Fusion technology really is something special."
While special, HP's Jet Fusion 3D printing technology is not about to "change manufacturing as we know it," Kempton cautioned. The technology is still likely to be used mostly for Rapid prototyping. But if it lives up to its speed and quality claims, HP is likely to become a dominant player in the 3D printing arena, Kempton said.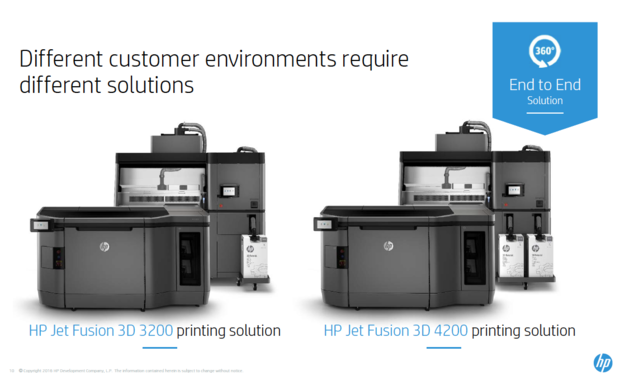 HP
Wohlers agreed, saying HP's printers will "rewrite the rules of 3D printing."
For one, HP's Jef Fusion printers operate at half the cost of similar 3D printing methods, such as laser sintering. Today, laser sintering is the most popular additive manufacturing process for production parts.
Wohlers also pointed to HP's claim that its machines will be 10 times faster than laser sintering, since speed is critical to producing production quantities of parts. 3D printing has traditionally been faster at preparing parts for manufacturing, but slower in actually building the parts than traditional methods such as injection molds.