How to use your Apple TV to have a merry, Siri Christmas
Your Apple TV can help make the season bright—if you can find what you're looking for. We're here to help.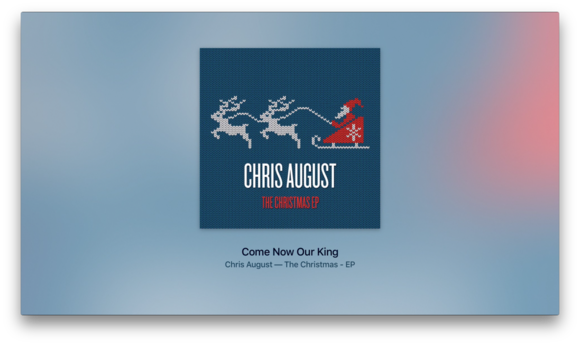 Siri can spin Christmas music all day, even if you don't subscribe to Apple Music.
Movies and TV shows
Once you've heard enough versions of "Jingle Bells" to last till New Year's Day, you can move on to movies. Like carols, you can ask Siri to see its hand-picked selections of Christmas movies, but its taste might leave something to be desired. Instead of the classics like It's a Wonderful Life, Miracle on 34th Street or National Lampoon's Christmas Vacation, asking to watch a Christmas movie returned lesser-known titles like Headed South for Christmas, Christmas with the Karountzoses and Up on the Wooftop. Even asking to watch Rudolph the Red-Nosed Reindeer doesn't lead to the Island of Misfit Toys, so you're probably going to have to search the old-fashioned way to find your holiday favorites.
But even with the tedious remote typing (pro tip: be sure your Apple TV is updated so you can use the Remote app), you'll be dashing through the snow in no time. Inside each of the genres inside the TV Shows app you'll find an assortment of holiday-themed fare, with timeless classics from Dr. Seuss and the Peanuts, as well as newer specials from Paw Patrol and Shimmer and Shine. And all of your old favorites are available inside Movies, even if Siri doesn't know they're there. (And if you're dying to see Saved By the Bell alum Dennis Haskin's star turn in Up on the Wooftop, you can find that, too.)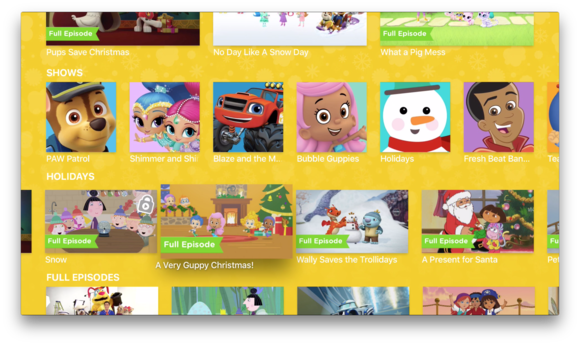 The Nick Jr. app has a ton of great holiday fare for kids. (Well, for kids whose parents haven't cut cable yet, anyway.)
Individual channel apps are a great source for festive entertainment, too, provided you're a cable subscriber. Nick Jr. has a great collection of holiday episodes from its entire lineup of characters. Meanwhile, in the ABC app you can watch I Want a Dog for Christmas, Charlie Brown, as well as holiday-themed episodes and clips of The Chew and Jimmy Kimmel Live. Netflix is another great source, with a deep Christmas catalogue that covers all tastes, whether you're into Frosty or Bill Murray.
Apps
If Siri isn't very useful when looking for Christmas movies, it's absolutely useless when trying to trim your Apple TV with festive apps, since it hasn't been taught how to search the App Store. But Apple hasn't made that very easy for human intelligence either, with neither a holiday category nor collection in the App Store. But there are some good ones to be found if you know where to look.