How to use any remote control with your Apple TV
This works just as well with the third-generation Apple TV as the new model.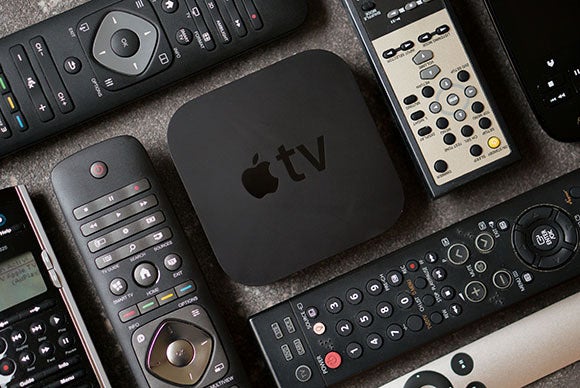 Credit: Christopher Phin
One of the cool things about the new fourth-generation Apple TV is that it supports HDMI-CEC, so that you can control your TV or your speaker system using the remote control that came in the box along with it, automatically switching everything to the right input, controlling volume, and turning everything off at once when you're done.
But like the fourth-gen Apple TV, the second- and third-gen models (so, basically, every "black puck" Apple TV) have another, often overlooked trick up their utterly non-existent sleeves: they can be controlled from any other remote control. (Caveat: it needs to be a remote that issues its commands over infrared, not RF, but since that accounts for the overwhelming majority of remotes, we're pretty confident saying "any.")
Doing this won't mean your TV automatically switches to the correct input, say, and of course it wouldn't allow you to use Siri on the new Apple TV, since the third-party remote you'll be using wouldn't have a mic or Siri support. But what it does mean is that you can either deliberately or accidentally loose the little white or silver remote that you had been using with your Apple TV and just use the big remote that came with your TV. Or indeed, you can use this trick with multiple remotes, so you need never be unable to control your Apple TV again.
The basic idea is that most TV remotes can switch between controlling the TV and controlling other devices (a DVD player, a cable box, whatever) by pressing a button on them that switches modes, so that instead of issuing infrared commands that the TV understands, it's issuing commands that the DVD player understands. Here's an analogy that might help: In normal operation, pressing the right arrow on your remote blasts the command "right" out into your room over infrared. Your TV understands "right," so it moves your selection to the right on screen. But pressing the DVD player button on your remote switches the language of the commands it sends out, so in this case pressing the right arrow now blasts, say, "derecha" (the Spanish for "right") out into the room. Your DVD player would action this command because it's expecting commands "in Spanish," but the TV itself doesn't react it doesn't "speak Spanish", so can't interpret "derecha" as "right."
The trick here is to pick one of the modes (languages, in our analogy) of your remote control and then teach the Apple TV to understand the commands it's issuing. This latter process sounds complicated—as anyone who's learned a foreign language will attest—but the Apple TV makes it easy.