How to stay connected while traveling with cheap and easy mobile access
You don't have to leave your phone in airplane mode throughout your trip anymore, as there are plenty of ways to get online and make calls.
Staying connected while you travel, especially internationally, is no longer something that's just "nice to have." The habits of looking up a restaurant, getting directions, messaging friends or family members, and backing up your photos are a part of everyday life, and you probably don't want to surrender that convenience when you travel outside the country.
Fortunately, your ability to stay in touch rather cheaply is better than ever. But what you get for your money, especially from U.S. carriers, isn't always straightforward. American wireless travel plans are sometimes labyrinthian in their approach. Picking up a SIM card overseas is also an option, but that comes with its own set of caveats and legwork.
Here's how to get relatively cheap mobile data access for your next trip, which will ensure that you can quickly find a cafe, a late-night drink, or maybe a Pokemon or two.
Get an international plan
The most hassle-free method is to add on an international plan from your own wireless provider. All four major carriers offer a dedicated site that tells you more about their international coverage options, so check in directly with Verizon, AT&T, T-Mobile, and Sprint for their current offers and restrictions. Some carriers even treat Mexico and Canada the same as if you're in the U.S., so you don't have to change a thing.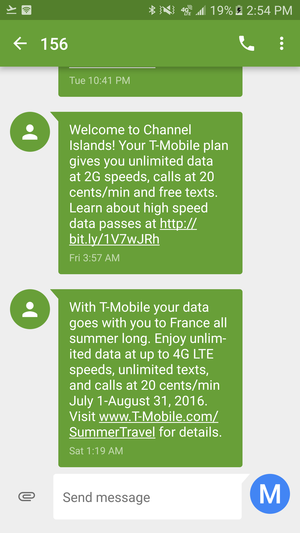 T-Mobile is one of many carriers that you can take with you on your travels.
Your plan may also have some international perks built in. For example, Verizon lets you buy a TravelPass, where you can get mobile data and phone coverage one day at a time. T-Mobile typically is among the most generous, with a steady stream of promotions that provide either basic slow-speed service for free, or a full slate of 4G connectivity for a little bit extra added to your bill.
There's an upside if you're an AT&T customer, as you can use Wi-Fi calling if you have a Galaxy S7/S7 Edge, S6 Active, LG G4, and LG K10. Check back with AT&T before your trip to see if your phone has joined the party. T-Mobile supports Wi-Fi calling on most modern phones, too.
Messaging options
Staying in touch with friends and family back home is one of the best reasons to get some type of data connection for your smartphone. Some carriers limit the number of SMS/MMS messages you send, or charge for each one. This makes travel the best time to go with an over-the-top messaging service. WhatsApp, Facebook Messenger, Hangouts, and others are all popular choices.