How to set restrictions on the new Apple TV
Apple provides granular controls for keeping unwanted content off your TV, but inconsistent reach across all media makes it a poor substitute for real time parental control.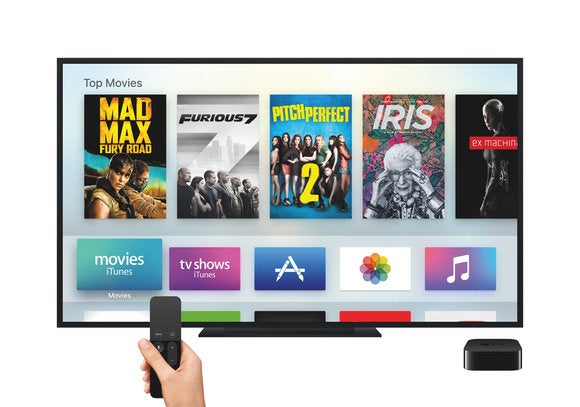 Credit: Apple
The new Apple TV provides lots of options for bringing all sorts of content to your television, but not all that content may be suitable for everyone in your home. To deal with that, Apple gives you tools to control what can be downloaded and displayed on your TV. Unfortunately, those tools aren't consistently applied across all content sources yet and don't always work as expected. Even so, it's better than nothing. Here's a walkthrough of how these features work.
Getting started
Apple TV's tools for managing content are in the Settings app, under the Restrictions option. It would be nice if Siri would bring you directly here, but asking her to open either Restrictions or Parental Controls prompts a terse reply that you don't seem to have an app by that name. You can use Siri to open Settings, because that is indeed the name of the app. Whichever method you use to get there, once you're in Settings, you can go to General > Restrictions.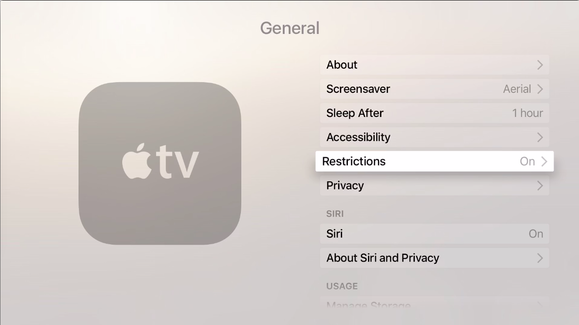 You'll then see a menu of options broken down into categories: Parental Controls, iTunes Store, Allowed Content, Game Center, and Allow Changes. Some of these options are binary—either Allow or Restrict, for instance—but when there are more choices, you'll get a new page with a list of your options.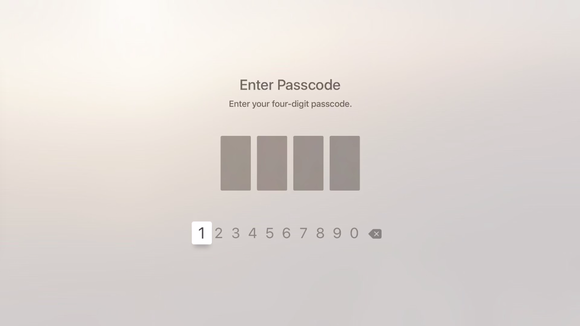 As long as Restrictions are tuned off, all options for specific controls are grayed out. To change any or all of them, you need to click Restrictions to toggle them on. Doing so will prompt you to create a four-digit passcode, which you'll type in again to confirm. If you ever forget your passcode, you can reset it (along with all other settings) in Settings > System.
What you can change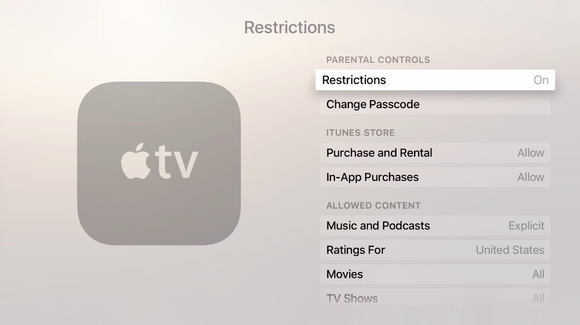 Once you've tweaked your general restrictions, you can dig a little deeper. Here's a full list of what you can change and restrict:
iTunes Store:
Purchase and Rental: Toggles between Allow and Restrict.
In-App Purchases: Toggles between Allow and Block.
Allowed Content:
Music and Podcasts: Toggles between Explicit and Clean.
Ratings For: Lets you choose which country's ratings system to use when setting restrictions. This affects what you'll see in the options for Movies and TV Shows.
Movies: Shows a listing of MPAA film ratings (or those from your country of choice.) Choose the highest rating you want to allow; everything above that will be restricted. You can also choose to allow all movies or no movies.
TV Shows: Similar to Movies, but with TV ratings system labels.