How to protect your privacy with a VPN on Android
You don't necessarily have to spend money, but free VPN apps come with some drawbacks.
Manual VPNs
The world of VPNs is larger than what you can get in the Play Store. There are VPN providers that offer services on multiple platforms, and you can use your account information to set up a native VPN connection on Android. It takes a little more legwork, but it can be cheaper and more powerful. You will often get multiple simultaneous connections, so all your devices can access the VPN at once.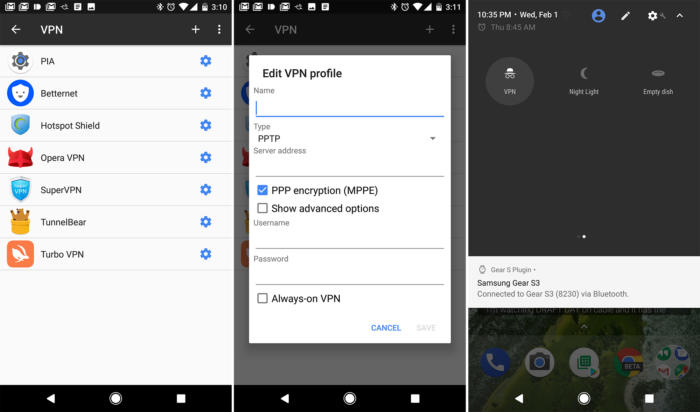 Plug your VPN account into the Android menu.
Some of the popular general VPN options are Private Internet Access, NordVPN, and KeepSolid. All will provide you with server and account details, which you can add to the Android VPN menu. That's usually found under "More" in the Connections area of your system settings. Add the details provided by your VPN provider as a new VPN connection; you shouldn't need to change the default connection type or mess around with the advanced settings.
One annoyance here is that you need to create a new VPN connection for each server location. That also means digging into the menu each time you want to toggle it on or off. You can alleviate some of that annoyance by creating a custom quick settings shortcut to your VPNs with Custom Quick Settings or a similar app.
However you decide to do it, using a VPN is good common sense when you're connecting to networks you can't completely trust. The privacy boost is desirable in this day and age. As for accessing content, that'll work sometimes.
Previous Page 1 2 3