How to protect your privacy with a VPN on Android
You don't necessarily have to spend money, but free VPN apps come with some drawbacks.
There are no limits on Opera VPN aside from a block on Torrents. However, there are only five server locations available right now. Still, it's free and pretty fast.
Betternet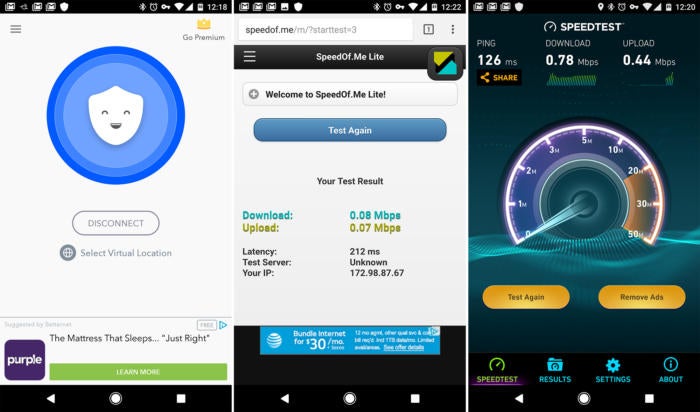 Bad speeds, few options in free plan.
The Betternet app is good enough, but has some odd design quirks like the full-screen navigation drawer. The ads aren't too intrusive while the VPN is on, but there are full-screen popups when you open it. The big issue here is poor speeds in my testing. Both tests reported well under a megabit. You also cannot manually select any server locations in the free version. So, if you get a bad server (like I apparently did) you're out of luck.
The paid version of Betternet is $12 per month (which is a lot) for faster speeds, no ads, and more servers. I'd probably pass on this deal.
Turbo VPN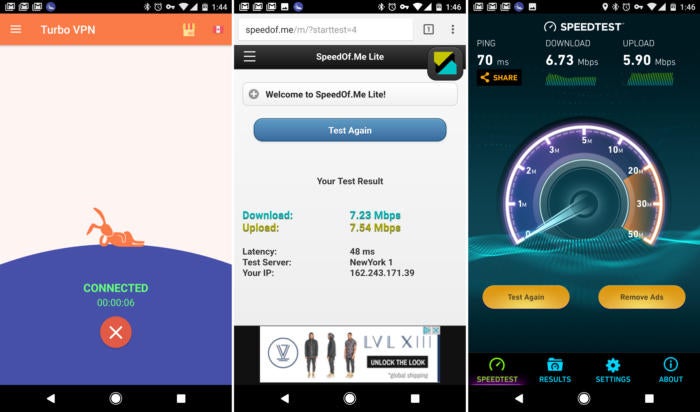 Solid speeds and a rabbit.
The speed of Turbo VPN isn't exactly "turbo," but it's in-line with most other VPN apps on Android. The app is clean and has a rabbit mascot. I like the rabbit, but it also has plenty of full-screen ads. I don't like those very much.
There are only five server locations, which isn't bad for a free VPN app. The annoying ads make this a less viable option than Opera VPN, though.
Hotspot Shield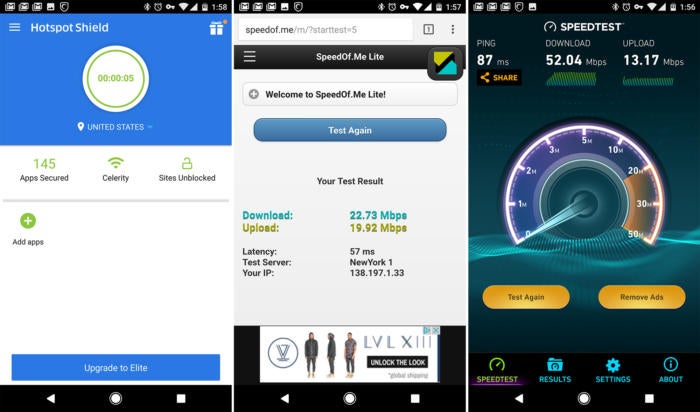 Fantastic speeds, but a few too many ads.
Hotspot Shield is the fastest VPN I tested in both tests—it wasn't even close. It has some ads that can get annoying, but not nearly as bad as Turbo VPN. The app itself is easy to use and not too cluttered. Unfortunately, you have very few server locations in the free version.
A premium Hotspot Shield account cost $12 per month. Again, that's rather steep for a VPN on Android. This is actually a license that extends to other platforms like Windows and Mac, though. If you don't need that, it's not really worth the cost.
SuperVPN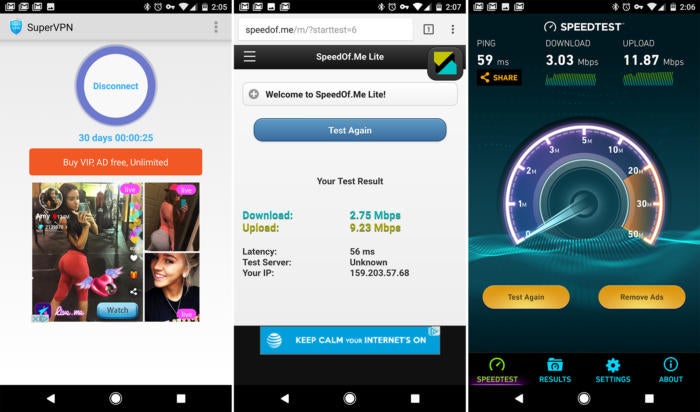 Greenbot
Not the fastest and not enough servers.
In my testing, SuperVPN wasn't particularly fast, and the app is in need of some major updates. There are also a ton of ads—more than in any other app I tested. There are only four server locations available in the free version. The paid version that costs $5 per month with no ads and faster speeds. However, it requires a separate payment app, which is weird. There are better options.