How to protect your privacy with a VPN on Android
You don't necessarily have to spend money, but free VPN apps come with some drawbacks.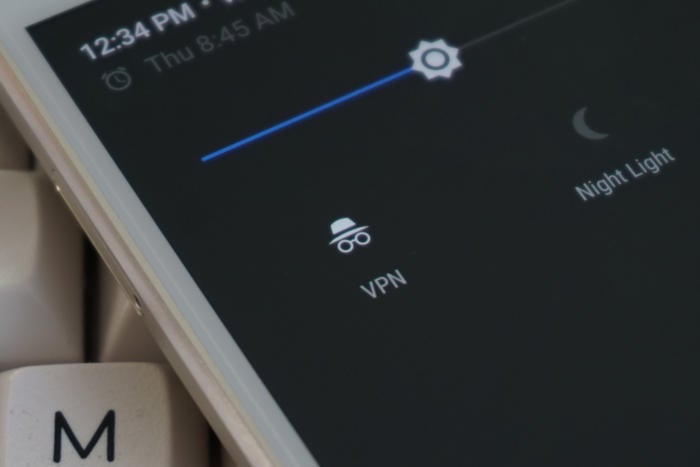 Using a VPN on Android can help you access content that's blocked in your region and help maintain your anonymity around the web. There are plenty of apps that offer VPN services for free and as a paid service, but which of them are worth your time?
I tested six of the most popular VPN all-in-one apps (with Speedtest and the speedof.me HTML5 test) on Android to see how they stack up. You can also go your own way and use Android's built-in VPN tool. With a few tweaks, you can make it a little easier to use, too.
Why use a VPN?
A VPN (Virtual Private Network) is basically a way to funnel all your web traffic through a remote server. This makes it look like you're in a different location and obscures your real IP address. VPNs encrypt the traffic passing through them, making it harder for anyone else to listen in on your connection, even if you connect to an unsecured Wi-Fi network.
Since your connection appears to be coming from a different area, you can access geo-restricted services like the BBC. Some of the more popular ones like Netflix and Hulu have gotten serious about blocking VPNs, though. It's also important to note possible security issues with the VPN providers. They are getting access to all your traffic, after all. Some providers like Hola VPN have had security issues, so you should steer clear.
VPNs do add another "hop" to your connection, so increased latency is usually part of the deal. A fast VPN shouldn't add a perceptible amount of delay, but some free mobile VPNs will make it tough to do things like video calls. Speeds also vary dramatically from one service to the next, but that's one of the things we're here to test.
TunnelBear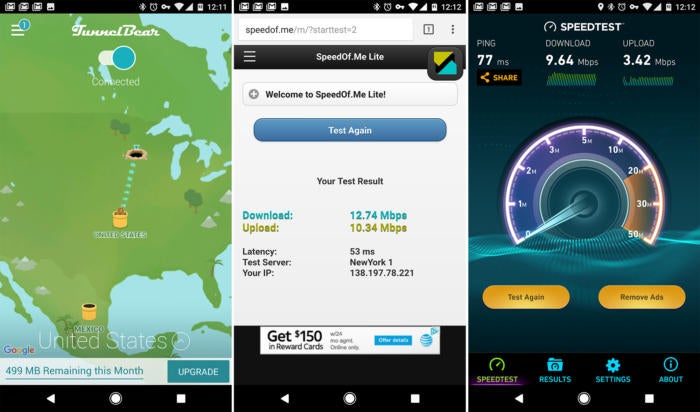 Good speeds, cute app.
TunnelBear has a cute app and a bear for a mascot. The VPN performance is solid, and there are no ads. It's a much more pleasant app to use than some other freemium VPNs out there. It has a good selection of servers across the world too.
The main drawback is limited data on the free tier. You get 500MB per month, and can earn more by tweeting about the service. If you want unlimited access, TunnelBear costs $4 per month. Be aware, you also need to set up an account to use TunnelBear.
Opera VPN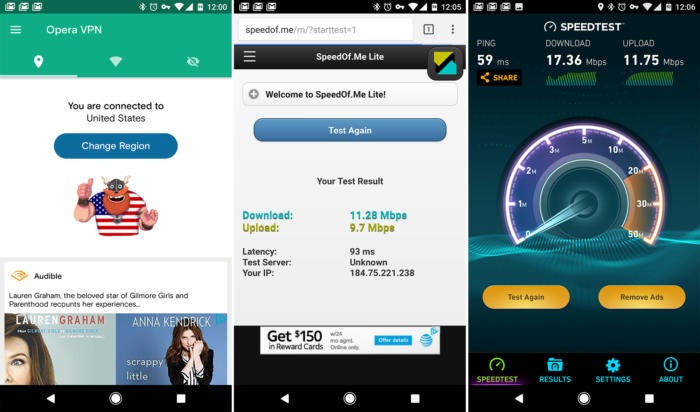 Material design with a viking.
Opera VPN is well designed with a slick material interface and a cool viking mascot. I guess VPN mascots are a thing? Anyway, Opera VPN was one of the faster connections I tested, but there were a few connectivity hiccups. The ads are not particularly intrusive, which is good seeing as there's no paid tier.