How to liven up Christmas with Google's Chromecast
The holidays are stressful enough. Use your Chromecast to bring a little Christmas cheer.
There are a ton of games in the Google Play Store with multiplayer support for your television set. Scrabble Blitz, for instance, is a think-as-fast-as-you-can word game that you can play against the computer or another family member with an Android device. Other well-known multiplayer games include Wheel of Fortune and Monopoly, which boasts features especially designed for use with the Chromecast. I plan on playing through Wheel of Fortune with my folks, since we grew up watching the game show during dinnertime.
Use YouTube to inspire a little more spirit
There's no better black hole to fall into than a YouTube one, especially on Christmas day when all my family and friends are all slightly inebriated—er, I mean, happy and jolly.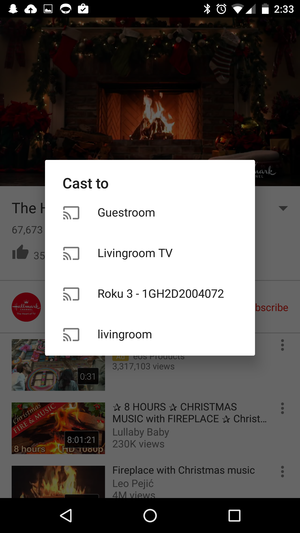 YouTube is ridiculously easy to use with the Chromecast.
The YouTube integration with Chromecast is nearly flawless. All you have to do is navigate to the video you want to watch on your mobile device, and then press the Cast button to push the video to the big screen.
If you're stuck on where to start your holiday YouTube adventure, consider kicking things off with a video of the best Christmas light displays, which will likely make you feel bad for skimping on the effort this year. If you're in a bind for Christmas music, YouTube also offers plenty of holiday playlists, like this one.
Or, if you'd rather just chill out on the couch with a drink in hand, you can do so along with Nick Offerman's Yule Log, where all he does is sit in an armchair and drink whiskey for 45 minutes. It is truly the best.
Karaoke, anyone?
By the end of the holiday night, I'm bound to want to try something wild. Karaoke with the Chromecast is always a splendid idea, if only to hear how badly each of my family members sing.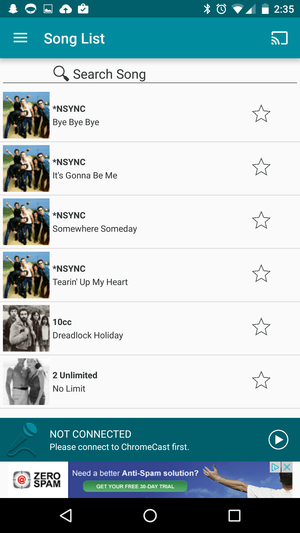 Karaoke Cast is a free, extremely hokey way to perform karaoke with your Chromecast.
Unfortunately, there aren't too many karaoke apps that are compatible with the Chromecast, and the few that are compatible feature a limited library of songs. The best app I've found is KaraokeCast. It doesn't do any of the heavy lifting that a regular karaoke machine would, like amplifying your voice, but it does allow you to queue up karaoke videos from YouTube.

Karaoke Cast looks like any regular karaoke program, though there will be some duds.
Keep in mind that since the karaoke versions of popular songs are typically copyrighted, some melodies might not be as accurate as you like.