How to liven up Christmas with Google's Chromecast
The holidays are stressful enough. Use your Chromecast to bring a little Christmas cheer.
Ahhh, the holidays. It's the most wonderful time of the year, and also the best time to show your family what your gadgets can do. This year, I plan to delight my folks with the wonders of Google's Chromecast. First, by introducing them to the plethora of features it's capable of, and then, by keeping them entertained with it. Here are some of the ways you can use Google's affordable gadget to help bring holiday cheer to your home.
Get cozy
California is experiencing a massive drought, and because it's been so dry out, we've been barred from burning wood in the fireplace.
Who needs real wood when you have an 8-hour loop of a fireplace?
Thankfully, there's Fire Place HD, which imitates the snap snap, crackle, and pop of a real life fireplace without all the harmful smoke polluting the air through the chimney. I don't have to worry about cleaning up the ashes, either.
Share memories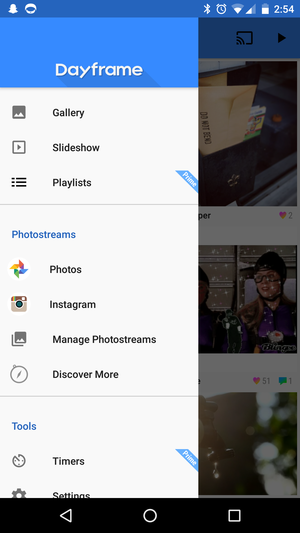 Dayframe is a good app to use if you want to share photos from your social networks on Chromecast.
For my Christmas dinner party this year, I plan to display all the photos we've taken this year on our TV so that we can reminisce about the year we've had. I like to use AllCast to display photos stored on my smartphone, though DayFrame is also a good choice if you want to tap into an album on one of your social networks.You can also use the Google Cast extension in Google Chrome to mirror any webpage full of your photos to the big screen. Unfortunately, Google Photos doesn't offer a Chromecast-compatible slideshow option just yet.
Keep track of Santa

You can countdown the time to when Santa takes off with Google's Santa Tracker.
Here's a new tradition to add to your list: Keep tabs on Santa with Google's Santa Tracker. As its name suggests, the app helps you track Santa beginning December 24.
With the Chromecast, I plan to follow Santa on the big screen as he makes his way around the globe delivering presents to every good little boy and girl. Until Christmas Eve, however, the Chromecast-compatible part of the app merely counts down the hours until Santa takes off from the North Pole.
Liven things up with a game
Family can be boring, but the Chromecast can help liven things up. It's like a game console without all the painstaking setup.

There are plenty of multiplayer Chromecast games to check out in the Google Play Store.